"The Voice," Travel Tips, A Special Passion Project, and Getting the Ball Rolling Again
After COVID
The Rock-n-Soul Singer-Songwriter At Home in NYC
Lisa Ramey grew up with her entertainment roots firmly planted.
"I am a woman who throws spaghetti at the wall and works like hell for the noodles that stick."

Lisa Ramey, Singer & Songwriter
While growing up in St. Louis, Lisa Ramey began performing at the age of nine. She performed 11 consecutive seasons at The Muny, America's oldest and largest outdoor theater, she has graced Broadway stages, toured the world with Cirque du Soleil as the Soul Singer in KOOZA, debuted singing backup on HBO's original series, VINYL, and was invited to audition for Season 16 of NBC's "The Voice."
As a guest on the NBC American singing television competition series, she joined EGOT and multi-platinum recording artist John Legend's team and advanced to the Playoff Rounds of the show. Her variation of "The Weight," a hit single originally released in 1968 by the Canadian-American group, "The Band," debuted at #64 on Apple Music's R&B Charts where she trended to a top 25 song within the first 24 hours of its release.
Get an update on Lisa's life and career after The Voice, along with personal stories and travel tips in my exclusive interview.
Welcome, Lisa Ramey!
Joan: Please describe your childhood, your hometown, St. Louis, and what led you to pursue an entertainment career.
Lisa: I was homeschooled, K-12th grade in St. Louis, MO. It was always easy for me to be around people because as a homeschooler I was always around my mom's friends and we had to behave. I mostly followed what my older siblings did. They started dance classes so I started dance classes at 6-years- old. They started singing in musical theater so I auditioned for The Muny and worked 11 consecutive seasons! Singing, dancing, and piano were my life. I got really great at it and I enjoyed doing it so it only made sense for me to continue until I didn't enjoy it anymore: that hasn't happened yet.
Joan: Coming from St. Louis, the second-largest city in Missouri, and then landing in New York City, could be a culture shock for some entertainers or anyone who has expectations or no expectations? What do you love most about the "Big Apple?" How has living in NYC changed your perception of the world?
Lisa: I love how opportunity is within reach in NYC. At any given moment we are all passing some of the greatest people on the planet. You can feel the energy this city has to offer and it's aggressive. Not everyone can handle it and I'm super into it. Living here has changed my perception of the world immensely. I grew up a Jesus Freak Republican from the Bible Belt and now I'm a rock-n-soul singer-songwriter living in NYC, running alongside people like Vice President Kamala Harris (D).
Joan: How would/do you describe yourself to someone who doesn't know you?
Lisa: I am a singer who writes her songs. What you see is what you get. I put my career first and I take my career very seriously. I'm joyful and I do everything in my power to surround myself with the dopest tribe.
Joan: Who is Lisa Ramey? Who is Lisa Ramey the crowds don't know?
Lisa: I am a woman who throws spaghetti at the wall and works like hell for the noodles that stick. I love a great couch potato moment and I love starting new hobbies. I am now training to box and I bought roller-skates!
Joan: How has the city changed since COVID-19?
Lisa: It's so empty. It doesn't look like my city. At first, it was creepy but after a few weeks, I was super into the fact that I could walk down the street and not bump into 80 people. We have space now! I'm into it.
Joan: How has the pandemic affected your life personally and as an entertainer?
Lisa: I have an amazing team and we were able to scramble and find as many virtual performance opportunities as possible. We worked our butts off and I was pretty busy for the first six months. On a personal note, The BLM Revolution mixed with Covid-19 made it difficult for me to create art. I was so mad and had a hard time finding my way out of the funk. But I found my way out! I stumbled upon some music that inspired joy, love, and hope within me. Hearing this music got my creative juices flowing – so that's what I'm doing now. I'm in the studio creating right now.
(Buy I Am…Lisa Ramey
on Amazon.com).
Joan: What about being in the spotlight? What are the benefits and drawbacks and how have your appearances on The Voice changed your life?
Lisa: I'm so happy I did the show. I was on twice which gave me a great storyline. That's a lot of TV time which in return gives me more opportunities when I'm off the show. I have yet to see a drawback from being on the show. Adding NBC The Voice Team Legend to my resume is a game-changer. Being mentored in front of the world by John Legend definitely opened doors for me.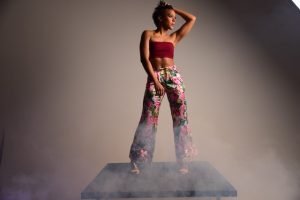 Joan: What's your opinion of being in the public eye?
Lisa: It's a lot of fun and super weird at the same time. I'm not the type of performer who needs to read a bunch of comments, but I enjoyed my time interacting with fans of The Voice.
Joan: How and where do you find time for yourself – to wind down and relax?
Lisa: Bedroom Yoga, apt (apartment) rooftop meditations, and my couch with Bravo TV. I make it a point to make these things happy on a daily basis to keep me grounded and happy.
Joan: What is your idea of the perfect vacation?
Lisa: I'm a workaholic so any major outdoor music festival performance where I absolutely CRUSH it. (Followed by me immediately catching a jet to a boat where I set sail for a month where no one can find me.)
Joan: Where have your tours and travels taken you as an entertainer?
Lisa: All over the world! Italy, Singapore, Seoul Korea, Australia, so many cities in the USA and Mexico to name a few.
Joan: What's your favorite destination and why would you recommend it to someone?
Lisa: Australia. The beaches. I never knew beaches could be so beautiful.
Joan: Now let's talk about The Voice. How did that opportunity evolve?
Lisa: Social media! The Voice found my account and did their homework on me and reached out.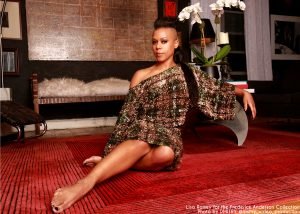 Joan: How have your appearances broken down barriers for you?
Lisa: This business is all about who you know. I now know the right people which allows more eyes to see me and what I have to offer.
Joan: What are the top ten benefits you have enjoyed because of your appearance on The Voice?
1. More performance opportunities
2. Being mentored by John Legend
3. Free trips to LA while filming
4. I've met so many amazing people in the industry
5. I was able to support Vice President Kamala Harris during her grassroots campaigns while she ran for President/VP
6. I was quoted "The soundtrack" to Kamala's "KHive" movement
7. I was on the most popular show on tv and I didn't embarrass myself so I book a lot of work
8. I have awesome professional performance videos, commercial reels, and a song via NBC on iTunes that grabs a lot of streams! (The Weight)
9. I got to keep my sparkly red boots from my last day during the competition
10. Thanks to my discography built before and after the show, I was admitted to the Recording Academy and had two singles and my debut album up for first-round Grammy consideration.
Joan: What have you discovered about yourself and your voice as a performer on The Voice?
Lisa: I discovered I am a rocker. I didn't know it until I did the show. I also figured out I can perform under all kinds of pressure.
Joan: How do you describe your style as a singer and entertainer?
Lisa: Rock – soul
Joan: What's next for Lisa Ramey? What are you working on now and where would you like to be in five years?
Lisa: I am releasing a Christmas cover song this holiday season. A remix of "Boney M's Mary's Boy Child/Oh My Lord." I teamed up with my friends, Ayaya, to create a fun dance mix we can all dance to around the house. I am also in the studio currently writing a very special passion project. More on that and some new music in 2021. In five years I'll be in my LA living room staring at all my Grammys.
Joan: What do you look forward to in 2021? What are a few career and personal goals you'd like to share with my readers?
Lisa: I look forward to a better and much healthier America. I plan to pick up where I left off in March with my music and take my show on the road!
I want to sing and perform as long as my chords will allow me to. I would love to dabble in film scoring, screenwriting, and producing both in music and TV. I had an amazing time working with so many black female political organizations this year that I want to keep up with them as much as possible so they can use me as needed. There are a lot of opportunities out there and I can't wait to get the ball rolling again!
Many thanks to Lisa Ramey for her time and candid answers.
Keep reading! Here's another post you'll love.
Follow and interact with Lisa Ramey on Facebook.