A Playground for Young and Old Alike
There are many reasons why the Poconos visitors numbers continue to grow and 30 million tourists from around the world visit the Pocono Mountains each year. Chris Barrett, Pocono Mountains Visitors Bureau President/CEO explains.
"Now more than ever, visitors appreciate the fresh, open-air that the Pocono Mountains has to offer."
Miles of Exploration Opportunities
As a matter of fact, there are plenty of options for visitors who crave the outdoors. You'll find a diverse array of terrain surrounded by gentle mountains, lakes, rivers, waterfalls, and woodlands along some of Pennsylvania's most scenic roads. Explore trails for year-round hiking, rivers, lakes for fishing, ski slopes to challenge you, and spectacular vistas to practice your photography skills.
Whenever you need a vacation or getaway, the Pocono Mountains offers opportunities for winter, spring, summer, and fall activities across a four-county region and more than 2,400 square miles. That's a breath of fresh air around every corner.
But there's another reason why the Poconos Mountains draw local, national, and international visitors.
"The Poconos is a great four-season destination within a few hours' driving distance of major metropolitan areas such as New York City, Philadelphia, Baltimore, and Washington D.C."

Chris Barrett
Abundant Lodging to Suit Your Style
You won't have a difficult time finding lodging to suit your every mood. Whether you're planning the perfect honeymoon, a solo trip, girlfriends' getaway, family vacation, or a weekend escape from your hurried lifestyle, you will not be disappointed with your choices. From resorts, hotels, and motels to bed & breakfasts, inns, and cabins, the Poconos stands out with a selection of top-notch places to stay while you play. Begin your search for accommodations here.
Water-Worshippers Delight
"It's always 'bathing suit season,' inside one of the Poconos Mountains indoor waterpark resorts," according to Chris, so forget planning your vacation around the weather forecast. As the temperatures drop, four all-season waterparks await you at Kalahari Resorts & Conventions, America's largest indoor waterpark; Great Wolf Lodge, Camelback Resort, and Split Rock Resort. Book a fun-filled VACATION using this waterpark link!
History and Culture Abound
Ever wonder who blazed the trails leading through the Pocono Mountains, figuratively speaking?
Long before the region became a popular destination, the area was inhabited by the Delaware, Iroquois, Shawnee, Minisink, Lenape, and Paupack Native Americans. Thanks to The Pennsylvania Historical Marker Program, there are more than 2,000 plaques in the Commonwealth, with over 50 located in the Poconos that highlight significant sights and stories from our region, state, and nation. Be sure to look for the distinctive dark blue signs with gold lettering serve throughout your travels. Click on this link to learn more about the history.
Dine In/Take Out
When you've worked up an appetite or a thirst you can only quench with a frosty mug of craft beer, the Poconos has abundant options for dine-in or take-out breakfast, lunch, and dinner. In an ever-evolving restaurant scene, diners can choose from local farm-to-table fare, sidewalk cafes, pubs, casino dining, multi-ethnic cuisine, and bakeries for a special treat. The Pocono Mountains Visitors Bureau (PMVB) can help take the guesswork out of where to dine.
"Some of the main attractions include our year-round outdoor recreation activities, quaint downtowns, renowned resorts, high-quality restaurants, unique events, and the Pocono Beverage Trail."

Chris Barrett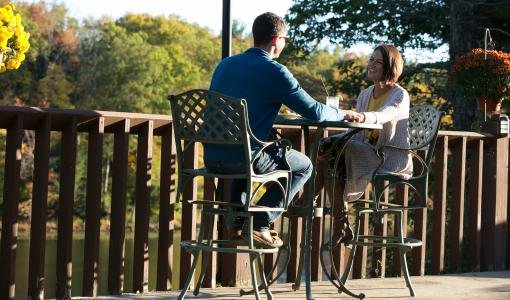 Suggestion: Order a take-out picnic lunch from Pocono Picnic, LLC, and choose a nature trail for a rejuvenating hike.
Calendar of Events
Chances are you'll want to round out your trip at one of the Pocono's upcoming events and festivals. The PMVB will keep you up to date with its calendar of events that run the gamut from NASCAR to the arts and live entertainment. When you're ready to return home, you'll leave feeling satisfied and revitalized. But keep in mind, the offerings are plentiful and you'll need to plan more than one trip to experience all the Poconos offers.
Publisher's Note:
In less than three years, I covered more than 15 Pocono Mountains destinations. Each town along the main thoroughfares I refer to as the Pocono trail, from the historic Delaware Water Gap to Milford, portrays the Poconos in its own unique way. It's not a mystery why travel writers like myself return often to cover new accommodations, dining, and events. You won't be disappointed.
Many thanks to the PMVB for sponsoring The Lodge at Woodloch Featured Chefs from Around the World cooking video.
---
The Lodge at Woodloch awards are too numerous to mention but in this companion article you'll find out why it's a favorite for a relaxing spa retreat.
Sponsored Post