Film Raises Awareness. Her Sense of Adventure Motivates.
Kaplan's Ongoing Pursuit to Preserve Africa's Primate Population
"Wendy Stuart Kaplan Whisperers and Witnesses" transports you into the world of this film director and producer who travels to Cameroon primate rescues to document the humanitarian efforts underway to protect and relocate chimpanzees and gorillas out of harm's way. 
To understand what led Wendy to follow her dreams to Africa, you must first know that as an adventure-seeking five-year-old, she told her mother she was going to be a model and she planned to visit Africa many times when she grew up. Her mother would smile and nod her head. Wendy knew her mother wondered where a kid growing up in the Bronx came up with these ideas. 
"The sense of adventure was already there when we took a family trip to Europe for six weeks when I was four, and my dad drove the rented Peugeot and we drove all over France and Italy. I remember that feeling of excitement that I've carried with me my entire life."

Wendy Stuart Kaplan
Interview
In addition to your role as a film director, you are also an actress, comedian, on-camera host, and model. What sparked your sense of adventure?
Excitement about visiting new places, and meeting new people. At 20 when I went to study abroad I lived in a village called Ife in Nigeria I just loved every minute I spent there. And oddly I felt I was home…My curiosity and love of adventure have always been with me and nurtured by the fact that I am fearless about travel, people, and new experiences. I just love it.
In my previous interviews with filmmakers, there is almost always a reason why they chose a particular subject for their films. Why are primates so important to you and the world?
Let me start out by saying I am a humanitarian who advocates for what I believe in. So "Whisperers and Witnesses" happened to be about gorillas and chimpanzees but it could have easily have been about the poaching of elephants, rhino, or pangolin.
"My film is my voice to share my beliefs."
I believe in film as a great communication (tool) to raise awareness in the world. This film was on primates because I had met two amazing women speaking at the Explorers Club in NYC. Rachel Hogan who is British started Ape Action Africa (over 300 primates including gorillas)  in Cameroon. Dr. Sherri Speed from Oregon started Sanaga Yong Chimpanzee Rescue (around 64 chimpanzees only) in Cameroon. The Rescue Centers are 10 hours apart. These women have dedicated their lives to making sure that gorillas and chimpanzees which share 98 percent of our DNA, have a future.
Right now, the adult chimps and gorillas are killed for bushmeat, or medicine to be used in other parts of the world.  The poaching must be stopped and the people of Cameroon are now very involved in working with these rescue centers to ensure the future of these primates. As stated by a local gentleman who works at the rescue center Sanaga Yong "I want my grandchildren to be able to come and see these gorillas and chimpanzees."  
Everyone knows the story of Sudan who was the last male of his white rhino species. We cannot let it become that way for gorillas and chimpanzees. I also emphasized in the film that these babies can never be released into the wild again as the forests are not protected for them. So to break this cycle of release and being killed by a hunter the rescue center has the babies raised by human volunteers for about a year and then paired with a chosen family group in a four-acre enclosure to duplicate what they might have in the wild. Food is supplemented by the local villagers who sell the food to the rescue center. The local people make money, their children go to school, and are educated that the primates are not to be hunted but be allowed to live. The rescue centers also hire the locals to work there. It is a win-win situation for all involved and guarantees a future for primates.
How did you find such an extraordinary setting for your film?
As a member of The Explorers Club,  I was invited to an art opening in their NYC headquarters,  of paintings of primates done by primate painter Robin Huffman (robinhuffmanart.org) an extraordinarily talented painter whose work looks like photographs in its capture of emotion.  She had volunteered at these primate rescue centers and devotes her life to sharing the stories of these primates through her artwork. She told me there were two extraordinary speakers coming to The Explorers Club that I had to hear speak.  When I attended those lectures and heard about the work that Rachel Hogan (Ape Action Africa) and Dr. Sherri Speed (Sanaga Yong Chimpanzee Rescue)  were doing, I knew I wanted to make a film about them.
After the lecture with Dr. Sherri Speed, they auctioned off a trip to stay in Cameroon for a week. I was the only person who bid LOL. When I got back to my apt I used my frequent flyer miles to get round trip tickets to Cameroon for myself and my husband, who is the videographer on our films. I then let both women know I was coming over Christmas and I was going to make a film about them. I think they were surprised as I had dates and plane tickets already without asking if the times worked for them. They worked together to get me some kind of itinerary, as I was staying at two different locations, 10 hours apart. They supplied the soldier escorts that we needed as well as the gov letter to get the Visas.  They did mention there was no tourist infrastructure where I was going. I really had no idea what that meant but I didn't care. I wanted to make this film about their extraordinary efforts.
How do you view your role as a documentarian? What are your three primary goals for your films?
As a documentarian, our films are shot from an empathetic point of view. Designed to advocate. educate. and entertain. I believe you need all of those components. The empathy is leaving out my judgments and opinions, and to share the emotion of both the primates and the people through the lens of what my husband Alan Kaplan shoots and what I bring out in an interview. We want the truth. From both the people as they share their feelings and what the primates looked like as they related to each other. The similarities between how the primates relate to each other in their family structures and how we as humans do are staggering. We want to make whoever is watching our film really care! And in the case of the two rescue centers in the film, they are non for profits. We hope that by raising awareness through what we advocate, through sharing what we learned from both the people and the primates to educate, and through my sense of humor in my interview style and how awkward my situations are and how awkwardly I respond, we are entertaining our audience. So that our films affect you. And ultimately you will donate to one of these rescue centers.
Who are your allies and opponents in your quest related to primate preservation?
My allies are like-minded people, educated in the understanding that if we don't start saving animals now, there will not be any for future generations. As it is climate change, like Arctic warming and Australian wildfires, will decimate animals in the thousands, so that challenge already exists without humans poaching them. No matter what political party a person belongs to anywhere in the world, science should not and cannot be ignored. We must always pay attention to that. Rolling back environmental protections and wildlife protections should never be allowed.
Get Ready for Spring with Prime Wardrobe.
How does the decline of primate populations and other animal species affect humans?
The decline of primate populations and other animal species affects humans in that the balance of life will ultimately be upset.  For example, species are not reproducing as fast as they used to, causing a decline in births, and if you look at penguin populations with a die out of the fish they eat, as the oceans get warmer, there will be fewer of them. And their predators will have less to eat. It is a cycle. It also allows as we have seen, other bacteria to emerge. As the permafrost melts different bacteria are released. Look at the Coronavirus. How could something like this have happened? Worldwide? We still don't have answers. If bats or pangolins carry that virus, they've been carrying it. Why now? And why the entire world?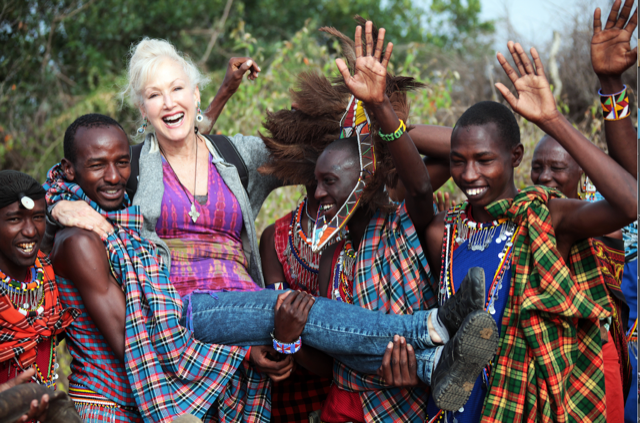 What is your personal story that led you to Africa to take on a topic that's an ongoing battle to rescue and preserve the primate population? Where do you see yourself among preservationists and activists who've come before you?
Where I see myself among activists and preservationists is this: I am not doing enough. More would be getting the word out on a larger scale and being able to speak in it on a larger scale, and effectively reach for-profit corporations and individuals to support the smaller not-for-profits. I believe I was told it takes around 250,000 a year to run a place like Ape Action Africa. Even if it's 300,000.  That is a drop in the bucket for corporations and wealthy individuals.  So I am doing my own little part. I do believe as a filmmaker and interviewer I could have a much greater reach. If you watch shows on Discovery their hosts share information on such a wide scale that through their shows they can reach thousands. I would hope to eventually do that. 
Please tell my readers about your crew and other films you've directed and produced.
If I were to tell your readers about my crew of myself, my husband, and one local person, and our minuscule budgets, they would probably wonder how we do it. Pure perseverance. I have a travel person from World Class Travel, named Bob Todd that has literally gotten me "In Country" in most parts of the world. With local guides that often work with scientists, anthropologists, and photographers. He knows the questions to ask and understands how we shout. So our first longer short was called "Fragile Beauty" shot on location in Ethiopia about the Hamar people, the Karo people, and the Mursi. My original intent was to go to the Southern Omo Valley to show how their way of life in terms of dress, living, and belief has not changed much over decades. I wanted to explore their adornment including the beauty of scarification. I wanted to experience their rituals and the meaning behind them. And yes that was all there but what I wasn't ready for was a child dying of malaria. To make a long story short we ended up getting her to a local clinic and I paid $10. That's right – $10 for malaria medicine because her father only had a cow to pay with. It was beyond comprehension that children are dying over $10 worth of medicine. And then we learn how these people are being moved next to other tribal groups vastly different from them, taken off their ancestral lands, to make way for a huge dam, the Geba dam project that will eventually connect the Nile in Egypt with Ethiopia.  Funded of course with outside money from China and Italy and wherever else. So much for a film about tribal fashion! Prior to that, I did small eight to 10 to 15-minute pieces with a production company, News at 11, and my show was called "Model With A Mission." You can find those episodes on YouTube.
What do you believe is your greatest accomplishment?
My greatest accomplishment is that I had to totally reinvent myself during the pandemic. NYC shut down on March 12 and March 13 and I created a show that has led me to not only being a guest on shows all over the country virtually but ultimately led me to create two video podcasts of my own. Prior to that time, I looked at whatever I accomplished as "okay I did that but what's next?" I often felt I was always at the start of things and then I would get to the finish line and I would have to start over. On March 12, my life as I knew it came to a screeching halt. I have been a model, performer, stand-up comedian, and host, for decades and recently an author; She's The Last Model Standing (Amazon)  and filmmaker.  I have only ever earned income doing those jobs, there never was a survival job and suddenly I was left with nothing.  Totally unacceptable. On March 13, I launched "Pandemic Cooking With Wendy" and let me mention I never cooked a day in my life except for coffee and hard-boiled eggs. So 99 Episodes later on WendyStuartTV on YouTube, I create characters, wear wigs, cook up a storm, and share my Wendy-isms with the world literally! And I definitely keep you laughing! During the height of the pandemic in NYC comments from people who were sick that I made laugh meant everything to me.  So that show is running and in July I started a show with my executive director of an LGBTQ organization where I am one of the founding members and board member called "Triversity Talk" where we have guests and explore topics from the LGBTQ community. And then this January, I launched "If These Walls Could Talk" a pure entertainment show shot on location at Pangea Restaurant on the lower east side of Manhattan.  That restaurant was known for all the actors,  cabaret performers, singers, artists, and performance artists hence the name for the show.  I host it with cabaret artist and actor, Tym Moss. We have had many legendary musicians, recording artists, and nightlife people. As I write this I realize as I said earlier I "advocate, educate, and entertain" and that's exactly what I'm doing now!!!!!
What's next for Wendy Stuart Kaplan? What are you working on now?
There are so many "nexts" for me.  We are finishing up our documentary "Working Dogs: A Love Story" a film about service and therapy dogs that we thought was finished and then the pandemic hit and we realized that so many people were getting pandemic puppies and rescuing dogs from shelters. And these are "therapy" dogs. They offer love, companionship, and joy, in a time when we basically had the rug pulled out from underneath us. With so many working from home, which is a change that I think will be here now, what could be better than the unconditional love given by a furry companion? We wanted to highlight that in the film as I said earlier. We approach our films with an empathetic point of view. I would also like to pursue larger platforms, for my shows on social media, Pandemic Cooking With Wendy, If These Walls Could Talk, and Triversity Talk.  Each of these shows is capable of attracting a much bigger audience which syndication would bring. I'm also interested in attracting sponsors. All three shows address different audiences although there is some overlap in terms of audience. I do intend to continue looking for stories in remote parts of the world for our filmmaking as soon as we can all travel again.  I will continue to model as that has already come back somewhat, with many restrictions, but as we get control of this virus through vaccinations, the hope is everything will be somewhat less restrictive. We just have to see. But in my case, I refuse to let this pandemic stop my creative energy. As this year proved I just had to channel it in a different way. I will continue to guest and co-host on live streams and podcasts as well as virtual speaking engagements and will put my contact info in this interview. And I can't talk about "next" without mentioning how much I loved giving tours at The Explorers Club in our NYC headquarters. I cannot wait to do that again when we open up. I love sharing the stories of exploration behind the many paintings and artifacts we have at the club as well as the range of fascinating people that I met there, from astronauts to climate change experts, to indigenous people coming to speak at the United Nations. The club is one of the most unique places I've ever been and certainly a catalyst for our films.
From a travel standpoint, safaris were a huge draw for tourists in our pre-COVID world. When it's safe to travel again, under what circumstances do you advocate tours to natural animal habitats? How can we safely observe animals in their natural surroundings without encroaching on their homelands?
Once we are safe to travel there are many reputable tour companies that provide safaris to view animals in their natural habitats. Your tourist dollars not only help the wildlife they help the people as well and here's how.  On either a walking safari or a river safari you are observing which means you are not interacting but leaving a very small imprint of viewing wildlife this way. You are distanced, for the safety of the people and the animals. No one wants to be charged by a bull elephant who feels his territory has been threatened. Reputable tour companies, often under the umbrella of ecotourism make sure your tourist dollars go to not only helping the wonderful trained guides but to helping the local people that make crafts or in places like Kenya run the lodges. Kenya has done a particularly good job here, as the camp I was at in Kenya was run by local Masai. They were our guides, our cooks, and we bought crafts in their villages. Some of the companies even support local co-ops that are woman run and they are in charge of creating beautiful crafts and splitting the profits. I believe for the wildlife to survive the people need to survive as well.
If someone with an affinity for animals were to ask you where to go and what to see in Africa, what would you recommend?
Where to go and what to see in Africa if you have an affinity for animals I would first recommend a basic jeep safari to see the big five which are elephant, lion, leopard, buffalo, and rhino.  There is nothing more exciting than viewing animals living their lives in a natural setting. And beyond the big five, you will also many other animals and birds. Seeing a hippo in a river is just spectacular. So are a pride of lions with their cubs. And you haven't lived until you've seen hyenas with their babies looking out of a hole.  I opened my tent one morning only to see two giraffes ready to stretch their long necks inside for a look.  And about 1/8 of a mile away watching us were about 20 baboons. Definitely casing the joint.  Just waiting for us to leave the tent and hoping we would forget to zip it up. The local Masai that were there to help always had an eye out for our safety 24 seven. Believe me, if that baboon troop had gotten in the tent, cameras, makeup, and clothing would have been gone.  For the more adventurous a gorilla safari is amazing. I have not done that but trekking on foot with a guide to see gorillas has to be truly unforgettable. I so want to do that. Imagine seeing a family of gorillas in their own habitat as they were meant to be.
Where can my readers learn more about you and how can they do their part to preserve primates?
For anyone who wants to learn more about me, I have lots of places to send you!
Bio and Contact Information
If you think Wendy Stuart Kaplan has a lot of pots on the fire, she does!  She lives her life to generously advocate, educate, and entertain. Her memoir "She's The Last Model Standing," (Amazon) tells the story of how she arrived on the scene in the 1980s and became a permanent fixture at Studio 54 along with and other inspirational stories. She was recently voted one of the top 10 beautiful women by Hollywood Digest (as an advocate and influencer in wildlife conservation as well as LGBTQ issues).  Wendy is an actress, model, film director and producer, comedian, podcast host, interviewer, club MC, author,  and most recently the host and creator of "Pandemic Cooking With Wendy," co-host on "Triversity Talk" with Steven Teague and "If These Walls Could Talk" with Tym Moss.  Her award-winning documentary,  "Whisperers and Witnesses: Primate Rescue in Cameroon"  was inspired by being a proud member of The Explorers Club, where pre-pandemic she gave unique historical tours of the club, sharing the dramatic stories behind the explorers and unusual art and artifacts, that have passed through those walls. You can find out more about Wendy on her YouTube channel "WendyStuartTV" and her website www.WendyStuartTV.com.
You can also donate to the primate rescues by clicking on these links. 
Video
Thanks to Wondershare Filmora, I'm able to create videos for my travel clients featuring  the fun I have on my travel assignments. Learning to format videos gave birth to my Joan Matsui Travel Writer YouTube channel. 
Contact me for more information about how you can highlight your business.