Looking Back, Moving Forward
A Poetic Musical Response to World Events
A Judy Collins Interview recaps the Feb. 12, 2021, Town Hall Concert and highlights some of the challenges and achievements this singer-songwriter has faced throughout her career.
To what degree do current world events influence Judy Collins' music?
"The way the world is turning and politics are moving; what happens in another part of the world particularly in humanitarian terms, is often inspiring of some kind of musical response," Collins said in an email interview. "Often it is just looking back to some of the songs sung or written and recorded in past decades."

Judy Collins, Award-Winning Singer-Songwriter (via email)
A violent act, a violation of human rights, in our country (the United States) or another, are some of those moments that have inspired Collins' music. She explained,
"In 2016 I saw a young woman explaining how worried her mother was because her daughter, the speaker, was a dreamer and it's possible that she was going to get sent back to her home country from the United States," Collins said. "Her mother was terrified of losing her. The awareness of the problem turned into a song called "Dreamers."

Judy Collins (via email)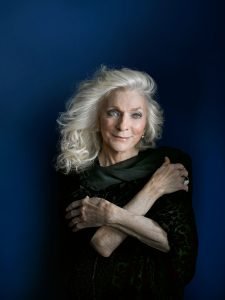 After 55 albums and a music career that began at age 13, Collins is an entertainment icon, a prodigy, and a social activist with critically acclaimed albums, a grammy award, top-ten hits, gold, and platinum albums, and a vigorous touring schedule. Rufus Wainwright, Shawn Colvin, Dolly Parton, Joan Baez, and Leonard Cohen recently honored her legacy with the album "Born to the Breed: A Tribute to Judy Collins."
Are you a Judy Collins' fan? Add these selections to your music library.
Known for her traditional and contemporary poetic folk-style, Collins recreated her legendary 1964 New York City concert hall debut at a special streaming concert on Feb. 12, 2021, at The Town Hall, a celebrated New York City cultural venue for more than 90 years. The concert was recorded live on stage in January 2021 and fans who watched the February concert had an opportunity to reconnect with Collins, albeit virtually, as she performed and candidly reminisced about her life and career.
Joni Mitchell's "Both Sides Now," "Send in the Clowns," (a 1975 "Song of the Year" ballad written by Stephen Sondheim for the Broadway musical, "A Little Night Music,"), and Mr. Tambourine Man, (written by Bob Dylan and released as the first track of his March 1965 album, "Bringing It All Back Home") are among the songs Collins performed. The event brought fans from around the world together with a constant virtual clamor of chat messages praising and thanking Collins for her outstanding performance.
An encore performance is scheduled at The Town Hall on April 16, 2021, at 8 p.m. and tickets are available through the link at the end of our interview.
In my exclusive interview with Collins, you'll learn more about her life and the personal tragedies and triumphs that have shaped her career and inspired her music.
Interview
How do current world events compare to the tumultuous 1960s? My question is based on your quote. "It feels right to go back to the material and time period now with the knowledge and life lessons learned in 2020."
We are deluded if we think history does not repeat itself or as Doris Kearns Goodwin says; history may not repeat itself but it does rhyme. These major issues – humanitarian and otherwise are like homing pigeons. They come home to roost every few decades and have to be dealt with in some of the same ways that were necessary in the first place. We have to be alert to certain segments of the population falling asleep. Politics and music are ways in which we express our outrage and find actions to take that are appropriate. Music I think is the softer, and perhaps the more powerful – a way we can avoid getting ourselves blown up in the process. Music helps us to overcome our outrage and provide a path towards change – think "we shall overcome" and hear people singing rather than fighting.
How has your music enabled you to get through life's most difficult moments?
Music has always help me survive. From my early childhood when I was in a chaotic household. I found peace and comfort and solitude playing the piano, humming along, learning songs. When my son took his life, I found comfort in writing and both poetry and music. Singing in a concert set up always gives me inspiration and comfort because I'm working with my own thoughts and dreams as I sing, while my audiences are also thinking and dreaming in their own minds and hearts. The power of singing in the presence of other humans can never be underestimated.
What thoughts came to your mind as you exited the stage at the end of the Judy Collins Town Hall Concert on Feb. 12?
I was thrilled to be on stage in this beautiful Town Hall in which I have performed a number of times for nearly 60 years. It was remarkable to go back to some of the material from that first solo concert that I performed in New York City on a big theater stage in 1964. In 1962, I opened for Theodore Bikel at Carnegie Hall, but Town Hall was my true New York Debut. I was touched by the response of people who watched the show, but I was also very moved by the playing in the show of my wonderful band. They were my audience, so to speak, and they were wonderfully responsive. Russell Walden and I have worked together for 30 years, and the same is true for Zev Katz who played stand-up bass at this concert. He usually plays electric, so it was a wonderful change; new to my concert stage was Thad DeBrock and Doug Yowell.
###
"Judy Collins: A Return to Her Legendary 1964 Concert" will be released on vinyl later this year.
Buy your tickets for the Encore Presentation at thetownhall.org.
Many thanks to Judy Collins for her heartfelt interview, Katherine DePaul at ARTISTVISION, for arranging the interview, and Keith Sherman of Keith Sherman & Associates for inviting me to screen The Town Hall Concert.
Biography (Courtesy of Shore Fire Media)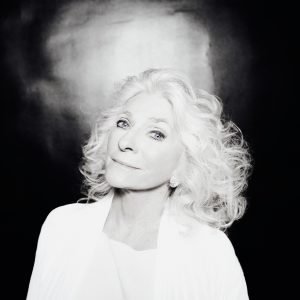 Judy Collins has inspired audiences with sublime vocals, boldly vulnerable songwriting, personal life triumphs, and a firm commitment to social activism. In the 1960s, she evoked both the idealism and steely determination of a generation united against social and environmental injustices. Five decades later, her luminescent presence shines brightly as new generations bask in the glow of her iconic 55-album body of work, and heed inspiration from her spiritual discipline to thrive in the music industry for half a century.
The award-winning singer-songwriter is esteemed for her imaginative interpretations of traditional and contemporary folk standards and her own poetically poignant original compositions. Her stunning rendition of Joni Mitchell's "Both Sides Now" from her landmark 1967 album, Wildflowers, has been entered into the Grammy Hall of Fame. Judy's dreamy and sweetly intimate version of "Send in the Clowns," a ballad written by Stephen Sondheim for the Broadway musical A Little Night Music, won "Song of the Year" at the 1975 Grammy Awards. She's garnered several top-ten hits gold- and platinum-selling albums. Recently, contemporary and classic artists such as Rufus Wainwright, Shawn Colvin, Dolly Parton, Joan Baez, and Leonard Cohen honored her legacy with the album Born to the Breed: A Tribute to Judy Collins.
Judy began her impressive music career at 13 as a piano prodigy dazzling audiences performing Mozart's "Concerto for Two Pianos," but the hard luck tales and rugged sensitivity of folk revival music by artists such as Woody Guthrie and Pete Seeger seduced her away from a life as a concert pianist. Her path pointed to a lifelong love affair with the guitar and pursuit of emotional truth in lyrics. The focus and regimented practice of classical music, however, would be a source of strength to her inner core as she navigated the highs and lows of the music business.
Buy White Bird – Anthology Of Favorites (White Vinyl)on amazon.com.
Disclosure: This is an affiliate link. I will receive a small commission at no additional cost to you if you purchase the item.