Fend WELLNESS Antibacterial Hand Wipe Mitts
Sanitize Your Hands With a Wearable Mitt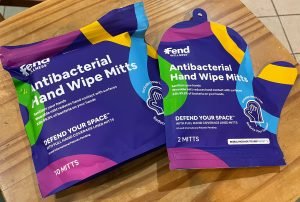 Look around you the next time you're out and about in public. Chances are you'll see at least one container of hand sanitizer everywhere people congregate indoors. If you want to fend off germs when you're on the go, there's comfort in knowing you can limit hand contact with surfaces while wearing the world's first wearable wipe.
Fend WELLNESS developed the mitt to provide full-hand coverage complete with a liner that's ideal for travelers who want to clean their hands and wipe down surfaces. The mitt kills 99.9 percent of bacteria on your hands and acts as a barrier with a protective liner that comes between you and whatever you touch. The resealable pouch keeps the wipes moist so they're ready when you're heading out for holiday travel.
Fend Sanitizing mitts are made with 75 percent alcohol and moisturizing Aloe Vera to help you fend off nasty germs without drying out your skin. They're sold in cases of 30 packs and you can choose from 30 10-packs for $210 or 30 2-packs for $75.
Buy them on Amazon.com using my affiliate link at no additional cost to you.
---
Find your peace in the New Year. Book a stay at The Lodge at Woodloch. Read more about this award-winning destination spa. The Lodge at Woodloch offers everything you need to relax and rejuvenate in 2022.