A Flight Check For Your Skin
How to Arrive at Your Destination with Healthy Glowing Skin
Tips by Dr. Liia Ramachandra, Pharm.D., Ph.D., Serial Entrepreneur and Healthcare Executive
Air travel can take its toll on your skin. Dr. Liia Ramachandra, Pharm.D., Ph.D., a serial entrepreneur, and healthcare executive, shares her skincare tips that will ensure you arrive at your destination looking your absolute best.
As you venture out this holiday season, celebrate the good news. Air travel is finally back to where it was, pre-COVID. The bad news is that flying, never stress-free, is more fraught than ever. There are still schedules to keep, long lines to wait in, crazy people, and crowded terminals to navigate while new safety precautions have added at least one more layer of anxiety.
Indeed, few activities are harder on our skin than air travel – from harsh conditions in the cabin to overcrowded parking lots, to the constant stress that something could go awry at any time. It's enough to make anyone suffer a spot breakout. But it is still possible to arrive at your destination with glowing, clean, and healthy skin–if you take a few proactive measures.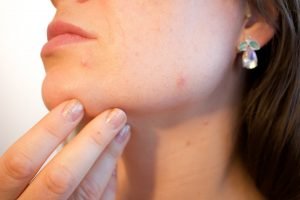 pre-flight
Those ubiquitous masks may help keep pathogens out of our lungs, but they also prevent our skin from breathing, leading to spot breakouts aka "maskne." That's because oil, bacteria, and dead skin cells build up even more when you're wearing a mask. Acne and redness can also be triggered by the humidity that your mask traps close to your skin.
But because aircraft cabins are designed to remove humidity from the air, the rest of your face will get far less humidity than it needs. To fight back against these side effects, I recommend moisturizing with light, non-oily moisturizers like EpiLynx Miracle Cream, which is made with hemp oil, or Epilynx Sunrise Morning Cream. It's also important to wear a clean, new mask every trip. Cotton masks typically are lighter and more breathable than synthetic ones, making them better at preventing spot breakouts.
I also recommend that you do not put on any makeup before the flight. This could contribute to clogging your pores. Traveling without foundation or makeup powder on your face will make it much easier for your pores to breathe. Also, minimize the use of hand sanitizers and wipes; both will dry out your skin.
in-flight
Modern airplanes are equipped with excellent filtration, but you can still expect eye-irritating allergens in the air, as well as increased exposure to bacteria. During the flight, try to minimize the number of times that you remove and reapply your mask. You might wipe your face clean with a damp cloth and pat it dry to remove any dirt or moisture from your skin every once in a while, but keep your mask in place as much as possible.
A flight can induce so much anxiety, from last-minute delays to inconsiderate seatmates to turbulence and tense takeoffs and landings. Even if the flight is a smooth one, situational stress prompts your body to release hormones that increase oil production in your skin glands. This means a greater chance of clogged pores. Help your skin by doing whatever you can to ease your anxiety. Bring a great book to read during the flight, or pack your air-pods so you can watch a movie or listen to your favorite music, meditation, or audiobook. Remind yourself that the flight is just a few hours and focus your thoughts elsewhere.
post-flight
By the time you land, chances are that your skin will feel dry and dehydrated. As soon as you step out of the airport, remove your mask and let your skin breathe!
You should also pay attention to the climate where you have landed. If it is different from where you departed from, you may need to adjust your skincare routine. For example, if you are traveling to a humid climate, you should be using very light moisturizers that will not clog your pores. If your destination is dry and cold, start using very hydrating and heavier moisturizers.
Bon voyage!
Dr. Liia Ramachandra, Pharm.D., Ph.D., is a serial entrepreneur and healthcare executive. Dr Liia is the Founder and CEO of EpiLynx, gluten-free skincare, and cosmetics brand. Her journey has given her experience in Global Medical Affairs, Global Ethics and Compliance, Clinical Research, and Global Publications. She has worked with multiple companies, including Takeda Pharmaceuticals Inc, Pfizer, and Astellas. Dr. Liia holds a Master's degree and a Doctoral degree in Pharmacy from Groningen University, Netherlands, and PhD from the University of Utrecht, Netherlands.
Read More About Dr. Liia Ramachandra.
About Dr. Liia
Dr Liia is the Founder and CEO EpiLynx, Gluten-Free Skin Care and Cosmetics Brand. She comes with vast experience in Global Medical Affairs, Global Ethics and Compliance, Clinical Research, and Global Publications. She has worked with multiple companies like Takeda Pharmaceuticals Inc, Pfizer, Astellas. She holds a Master's degree in Pharmacy and Doctorate in Pharmacy from Groningen University, the Netherlands, and a Ph.D. from the University of Utrecht, Netherlands.
Liia Ramachandra fills many roles in her day-to-day life. From being a CEO and a mother to being a doctor and a patient. It was her role as a patient that instilled in her a desire to create Dr. Liia®.
There were many factors that contributed to the creation of Dr. Liia® Skincare and Cosmetics. Only its creator, Liia herself, can tell you what they are.
They say "Necessity is the Mother of All Inventions."
Dr. Liia came out of my own needs and experiences. I created Dr. Liia® because I got sick.
I was in the prime of my professional career. I was an executive at one of the top pharmaceutical companies in the world. But I got sick. I was losing my lifelong battle with Psoriasis. I had just delivered my third child, my blood pressure was sky-rocketing, and I had been diagnosed with Preeclampsia. I was warned that if I were to bear any more children my condition could worsen. What was I to do?
I doubled down on my professional career while my health deteriorated even further. I was being put on more and more medications for psoriasis and hypertension. Despite my career further flourishing, I wasn't happy. The more I dove into work, the more detached I became towards my family and myself. I needed a change but I had little inspiration to do so.
One day, as I stood in front of the mirror and looked at the bright red spots on my skin, knowing that my blood pressure was also not under control, I broke down. I confessed to my husband that I needed to find something that would bring me back to my family and allow me to follow my passion in healthcare.
You see, my husband and I both work in the healthcare field. He has been a senior executive in large healthcare companies since 2005. He is a physician, a scientist, and a business leader (he has an M.D., Ph.D. in Cancer Immunology, and an MBA!). I have a Doctorate in Pharmacy and I am a scientist (a PharmD and a Ph.D. in Chemistry). Although many people had told us that we would make a wonderful team in solving difficult medical problems and such, we had never actually worked together.
So, I proposed my plan to him. I wanted to start my own business. I wanted to develop Gluten-Free, Allergen-Free, Vegan, and Clean Skincare and I wanted it to be the best on the market. In the meantime, I wished to figure out how to take care of myself, my husband, my children, and my family.
I didn't know how to begin or whether I could even be an entrepreneur. But I had to start somewhere. I started with me.
I needed to figure out what was wrong with me. A lot, apparently. After my third delivery, I suffered from postpartum depression and anxiety. It took a while to find the proper medication to treat those issues. Once my mental health was steady, I decided to focus on my physical health. I started by changing my diet. I was athletic but I decided to cut out carbs completely. But something strange happened once I did so. My skin lesions/psoriasis symptoms started to reduce. My blood pressure also lowered. I noted that a diet with less bread, pasta, and pizza would give me these results. So, I started researching this phenomenon and came upon several articles about the effect of gluten on inflammation in the body.
I then cut out the most obvious sources of gluten in my diet. I didn't even need to go to UV light therapy anymore for my psoriasis. My blood pressure was still high, but getting better. I had a theory, at that point. Maybe gluten is to blame for the symptoms of my ailment. So I cut gluten out even further. Slowly, but surely, the lesions on my skin disappeared. On my face and my body, there were only minor lesions now.
The problem is: Gluten is ubiquitous (everywhere!). It is hard to eliminate gluten completely from your life but you can do it if you dedicate it. I researched various skincare as well as household products and found that, surprisingly, gluten was in everything that is of convenience to all of us.
I had an idea. I wanted to meet the needs of people who are sensitive to gluten, many other allergens, and other types of preservatives that are in everything in what we put on and in us.
Using the skills I have learned as a scientist along with my husband's expertise in providing solutions to problems, I knew I could help an innumerable amount of people.
Thus, Dr. Liia was formed. As I said before, necessity is the mother of all inventions. We focus on curating products for those with gluten sensitivities, allergies, autoimmune conditions, and sensitive skin. We make our products with natural ingredients (for example, no parabens or phthalates).
I started small. I began the process of inventing the first of Dr. Liia®'s serums and creams to help improve skin health and complexion. From a serum and a cream to now many more products catered to those who have not been catered to before.