A Life-Changing Encounter
Australian Pop Star Following Her Dreams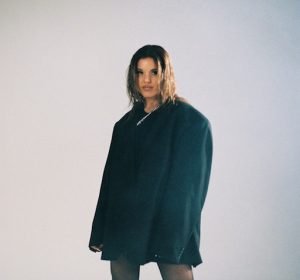 Australian pop star Jazzy K arrived at her current place in one of the most competitive industries at the intersection of talent and good luck.
According to Jazzy, her luck came about in Los Angeles through a chance encounter with one of the biggest names in the music industry.
She was working on writing a song in the W Hotel lobby while her father, Harry, was outside on a Facetime call with his other daughter, who at the time, was back home in Australia. Find out what happened in the Hollywood hotel lobby that forever changed Jazzy's life.
Make no mistake. This is a feel-good story.
Scroll down to read my interview with Jazzy K and then sit back and watch the "Trap House" video.
Interview with Jazzy K (via email)
Tell me about your background and current home base and what led you into the music industry.
I'm from Sydney Australia, but ever since I was little I always knew I wanted to do this!
So as I grew up I did a lot of research about the industry, read a lot about my favourite artists and their journeys too. Eventually, It was the right time for me to come to LA and that's where the real work started. I haven't looked back since.
Please describe the encounter you had with Antonio Dixon and Baby Face.
This was such an insane night. The way I ended up at the studio is a whole story in itself. But once we got there we met Toni Dixon and he showed us around. He was an absolute legend, so sweet and welcoming. Then towards the end of the tour, we were introduced to Kenny. Kenny looked straight out of a James Bond movie, clean suit, glowing skin!
Little did I know that Kenny was the legendary Babyface. (Publisher's Note: Kenny "Babyface" Edmonds, singer, producer, and songwriter, touched virtually every major facet of pop music during the 1990s.) So we started chatting and he was telling me about his upcoming trip to Australia. I invited him to my family's restaurant .. just like I would to anyone, except this wasn't just anyone. He is Babyface! Haha. I ended up singing/showing my music I was working on. And long story short they agreed to have me back at the studio and we worked together for a few weeks!
But you should've seen the moment I realised it was Babyface, I turned into a complete tomato. I was just so grateful to be in his studio, I didn't think I was actually going to meet him! But I am so grateful to them for being so kind and humble towards us. Working with them was an experience I'll never forget
Who are a few of your mentors or "idols?" What genre(s) do you relate to and what type of music has had the greatest impact on your style?
I've never had one artist that's been like an idol to me! But growing up there was a lot of Elvis playing around the house, and as I grew up a little Britney Spears, Christina Aguilera, Destiny's Child were some of my favourites! You can hear the influence they've had on me in my music till this day.
With genres, I've always loved jazz/ blues music, but I also love your typical POP & RNB records! I'm not a slave for one genre. If anything catches my attention I'll listen.. I love all music!
How do you describe your style?
I would definitely say my genre of music is Rnb Pop, but there are elements of other genres I love to incorporate depending on the kind of story I want to tell. So you'll always get something a little bit different from me
What are a few of the qualities an entertainer needs to stand out in your industry? Why do you believe you are destined to sing and perform and make your mark in music?
For me personally, all I know is that there is nothing else I can do with my career that'll make me truly happy. I think that artists stand out the most when they allow themselves to be honest. People can feel real, and music is emotion. If you are real with your audience and your music, then people will feel it & you will shine through the noise!
What influence has your dad had on your career?
I honestly have the most supportive family! My parents have always encouraged me and my siblings to follow our dreams.
When I am working my dad and I work as a team. He's always with me as an extra level of protection from people who may have the wrong intentions. But also he helps me to keep my work ethic strong.
What are some of your favorite venues to perform and where would you like to perform soon? Where do you see yourself a year from now?
I'm hoping that in a year from now I'll be on tour with a lot of new music out!
But so far my favourite performance has been in Sydney where I had the whole night city skyline behind me the whole time, that was a dream!
Who knows what tomorrow will bring but having goals and plans can help you get where you want to be. What is your number one goal professionally and personally?
My number one goal professionally is to have my own headlining world tour, and my number goal personally is to keep my mind, my body, and my relationships healthy!
---
Want to hear more Jazzy K. music? Download and enjoy her latest release, "Don't Look Back" at https://song.space/6elexw.
---
Find out what's happening in the Poconos. Read this companion article and schedule a weekend of pampering at The Lodge at Woodloch.
---
Make 2022 a year of learning and discovery. Subscribe to National Geographic Magazine using my affiliate link. (At no additional charge to you.)