Preserve Your Own Treasures for Future Generations
Travel Tips: What to See
An Interview with Architect, Jayashree Shamanna
Jayashree Shamanna and I met when our oldest sons became friends and as time went by, we developed a close friendship. I knew her story, "Indian Architecture Rooted in History," would be an instant hit with my readers based on her love for travel and architecture and her strong sense of ethics in her personal life and career.
Similarly, her goal is to design buildings that connect people and society – to create spaces that are innovative, inclusive, and inviting.
Before we jump into my interview with Jayashree, here's a sample of what you'll find as you scroll down the page.
In all of my work, I have sought to be true to the sensitivity of the building designs and to the needs of the clients while integrating it all within the community setting.

Jayashree Shamanna, Architect


A full bio follows our interview.
Indian Architecture Rooted in History
Tell me about your life growing up in India and how your Indian heritage has paved the way for your fascination with architecture.
I was born and brought up in Bangalore, India. I come from a typical south-Indian middle-income family. What made my family a bit different is that they had a more liberal mindset than most traditional Indian families. As a girl, I was encouraged to be independent, to think for myself, and to focus on building a career for myself. It was outside the norms of how girls and women were often treated in India in the early 1970s. My parents were both highly educated and they inculcated the love of reading and education and travel in me from the onset.
Indian architecture is tied in inextricably to the culture and religions of the country. Many of my travels with my family were to temples and places that embodied the culture and the society we lived in. My earliest memory of this was in the 11th century Belur temple, which our family visited every summer. The main deity at Belur is ChennaKeshava, our family deity. So, trips to Belur were always a combination of religion, ritual, tradition and memories. The temple complex is a tribute to Hoysala architecture and is constructed entirely of soapstone with intricate works of art and sculpture. The temple complex is paved with hand-hewn granite slabs upon which the visitors walk barefoot as is typical at Hindu temples.
One of my earliest memories of Belur is of running on the rough granite slabs of the temple complex with my brother and cousins. It was a combination of play and to avoid the burn from the hot stone on our bare feet. My first lesson in the science of materials came from my father at the temple when he explained to us about how darker materials store more heat than lighter ones and our game then became to identify lighter colored granite to step on. Some of these stones collected drops of water from the rains, which also added to cooling our little feet as we ran across them. The Belur temple complex was my introduction to architecture through science, history, culture and sustainability.
I strongly believe the first step towards sustainability is the preservation of the built environment. In addition to my professional work, I have taught architecture at various colleges and universities, both in India and the US.
Overall, what does India offer in terms of architecture?
Indian architecture has a long and rich history dating back over a thousand years. The buildings and structures are a fascinating study in materiality, craftsmanship and scale. With early origins in wood and brick to skilled construction in stone, traditional Indian architecture is heavily influenced by religion. Over the centuries, influences of invading/colonial cultures and traditions have directed the changes in the language of architecture.
With its 1.2 billion population, India offers diverse architectural styles from the north to south and east to west. The styles of architecture differ from one region to another based on local traditions and religion. Short of a course in architecture, it is quite difficult to explain the nuances of the differences. That being said, I have included a couple of examples of the different styles here.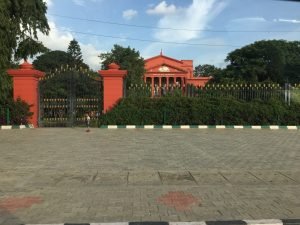 What do you remember about your first experience traveling throughout India and how did that excursion kindle your quest for travel?
India is less than half the geographic size of the US and has 28 states and 8 union territories. Most states have their own languages, cultures, and regional cuisines. There is so much variety and diversity, that traveling through the country from state to state, is both a culinary and a cultural experience like no other. Additionally, geography, climate, and ecology also vary enough to give a traveler a unique experience from one end of the country to another.
Although I can't really remember my first experience traveling in India, the most distinct memory is of seeing snow for the first time. Bangalore lies in the heart of south India in a typical tropical zone of the country with moderate temperatures all year round.
The summer of my tenth birthday, I had traveled north with my family, to visit an uncle, who lived in a small town at the foothills of the Himalayas. We set up base at his house and traveled further north for a whole day in an old rusty jeep to the state of Jammu and a popular tourist destination called Gulmarg. We arrived late in the day when the sun had set and it was almost bedtime. When I woke up the next morning, I remember seeing bright sunshine and everything outside our hotel room was pristine white. It had snowed overnight and a fresh layer of snow covered the entire landscape. We woke up to strong aromas of coffee and local breakfast delicacies served to us in the midst of this beautiful landscape. After all these years, I still do not have words to describe the feeling I got in seeing all this. The touch of the cold snow, the lightness of the snowflakes, the warmth of the local people and the incredibly fresh food still brings memories of my trip. That was probably one of the defining moments in my desire to travel the world. The potential to experience different cultures, meet diverse people, taste different cuisine, and see the wonders of the world.
As an architect, what type of architecture interests you the most?
We spend our entire lives within buildings. From the moment we are born in a sterile hospital room, to the homes we live in, to the schools we attend, to the buildings we visit during our travels, and the place we rest our heads on finally. Architecture is harmoniously woven into our lives and we never pay attention to it unless it brings us discomfort. I love buildings and spaces that resonate with the users. Buildings and spaces that evoke memories. Materials, textures, and patterns that bring comfort.
Based on your travels, what world landmarks and heritage sites do you recommend to a first-time traveler?
I personally endorse the notion of exploring domestic sites first. Something close to home. The understanding of your own history and culture helps you look at the world through a different lens and helps you appreciate the importance of protecting and preserving your own treasures for future generations. Every country has its contribution to the world landmarks and heritage list. That being said, for a first-time traveler, I would recommend Egypt. Both for the architecture and culture. The scale of the architecture is awe-inspiring, and the food and culture are exceptional.
What tales and stories are hidden within the walls of historic buildings you've seen?
Every historic building has stories and memories associated with it. Each one of them reveal something different based on the use and the period of construction. The abandoned buildings of the lace factory in Scranton talk about a thriving industry in a small town in Pennsylvania, the working conditions and a peek into the industrial process that fueled this city. An old sewing factory in the garment district in New York City talks about immigrant women trying to make ends meet, the loss of an industry to globalization, and the draw of loft spaces for the wealthy. Anne Frank's house in Amsterdam talks about grief, the horror and atrocities of the Nazi regime and the young girls resolute drive to survive. Preservation Hall in New Orleans talks about humid summer days, soulful music, and a piece of the history of this country. Finally, my grandparents' house in Bangalore talks about fond memories, endless summers with my family, books that I read and a yearning for simpler days.
When you're planning a trip, typically what's the first thing you want to do when you arrive?
Find a good restaurant and check out the local grocery store.
To what degree is architecture a part of your travel plans?
Whether it is visiting architectural sites or understanding architecture through museums and culture, it certainly forms a huge part of all my travels.
What are a few of the sites you'd like to visit in the future?
My bucket list includes cities and countries and not just sites. St. Petersburg in Russia, Cambodia, Morocco, Japan, to name a few. I would love to walk the El Camino de Santiago to visit the Santiago de Compostela, walk the Hardian's wall and climb the steps to the big Buddha in Hong Kong.
How can we best design the timeless architecture future generations will visit in years to come?
Architecture is very subjective and is a mindset that needs to be approached with the understanding that what was suitable yesterday may not be relevant tomorrow. I believe good and timeless architecture is one that has permanence, that is adaptable and has a relationship with natural elements.
What makes historic architecture so popular?
Travel is a voyeuristic sport. We all want to see what others are doing or did. We want to explore and experience a piece of the people, places and cultures we visit. Historic places and architecture give us a small peek into someone else's life, and as humans, we always use that as a scale to evaluate our own lives. It also offers a peek into what was lost, what could have been, and a moment to put ourselves in someone else's shoes.
Why do we visit the same sites over and over?
Comfort, familiarity and memories.
Author BIO
Architect and educator, Jayashree Shamanna, lives in Northeastern Pennsylvania. She earned her architecture degree in Bangalore, India, and her Masters from Texas A&M University with an emphasis on historic preservation. She has more than 25 years of experience as an architect and educator. She has worked on multiple projects in her career as an architect in New York City with an emphasis on adaptive reuse, restorations, and additions to historic structures. 
She has lectured at local community colleges to expand the awareness of architecture, design, and sustainability and she dedicates her free time helping local community-based historical societies in preservation-related projects.
Contact jayshamanna@yahoo.com to learn more about her projects and work with historic preservation.
Check out my partner's offers on my landing page. I currently work hand-in-hand with SiteGround, Orvis, Qatar Airways, Transcribe Wreally, Sunglass Warehouse, and The New York Times to bring you outstanding offers.
Love architecture? The world is full of breathtaking buildings, history, and compelling travel stories. Here's yet another personal account of what you'll find in other cities and countries. https://joanmatsuitravelwriter.com/sri-lanka-to-abu-dhabi-a-couples-getaway/.
Start a conversation about architecture and travel at https://www.facebook.com/LearnTravelWritingWithJoanMatsuiTravelWriter/.