The Richest Island on Earth
An Interview with Bruce Beehler and Tim Laman
My interview, "New Guinea's Natural History, "with Bruce Beehler and Tim Laman, is a delight for anyone who is intrigued with travel. Their masterpiece book, "New Guinea: Nature and Culture of Earth's Grandest Island" leaves no stone unturned. It's a photographic, historical, and cultural journey through the world's largest island.
I agreed to read and review this book for several reasons. The spectacular photography immediately grabbed my attention and after reading the contents page, it's obvious their trek through New Guinea was a labor-intensive project.
Scroll down to read this descriptive interview with world-renown author and New Guinea expert Bruce Beehler and award-winning National Geographic photographer Tim Laman. You'll journey with them on an unforgettable tour of the natural and cultural wonders of the world's most awe-inspiring island.
New Guinea's Natural History highlights key moments of their trip with personal recollections. Bruce and Tim are storytellers.
In this interview, you'll learn why the world's largest, highest, and most environmentally complex tropical island is not the best choice for the faint-of-heart or first-time traveler. Scroll down for a wondrous account of the island's rainforests, indigenous plants, and animals with travel tips, and suggestions.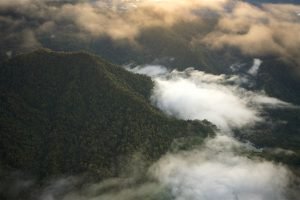 Interview
Joan: When and how did your love affair with New Guinea begin?
Bruce: In the early 1960s I encountered Tom Gilliard's Living Birds of the World, which featured a black and white photograph of a displaying Magnificent Riflebird. I was entranced by this bird that was, in essence, an avian "transformer" — quickly converting from a songbird to a piece of ornamental sculpture. Gilliard, a New Guinea bird expert, attended elementary school with my father back in the 1920s. So I heard a lot about Gilliard and birds and New Guinea from my Dad. When I got a chance to apply for a travel fellowship as a senior in college, I applied to spend a year in New Guinea. I arrived in Papua New Guinea in April of 1975 and never looked back.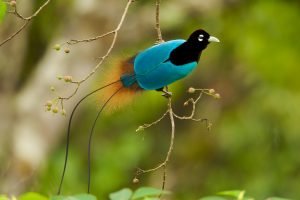 Tim: My first trip to Indonesia was in 1987 when I volunteered to be a research assistant in Borneo for a year. In preparation for that trip, I read Alfred Russell Wallace's classic "The Malay Archipelago: Land of the Orangutan and the Bird-of-Paradise", and although I was to spend many years working in Borneo, doing my Ph.D. and a lot of photography there, I had the idea of wanting to travel to New Guinea to see Birds-of-Paradise. I finally got my chance on a bird-watching trip in 1990. Following that, I began scheming on ways to get back to New Guinea to seriously photograph this remarkable island and its birdlife. My proposal to National Geographic magazine was accepted eventually, and in 1994 I began my serious photographic obsession with the Birds-of-Paradise and all the biodiversity of New Guinea.
Joan: How did you meet and what led to your collaboration?
Bruce: I knew Tim because of his work in collaboration with Conservation International, when he was shooting a piece for National Geographic featuring the Raja Ampat Islands of western New Guinea. Then Tim and Ed Scholes did this big field project on birds of paradise, and I advised them on their work. We also traveled to the Foja Mountains together in 2007 and again in 2008, cementing our friendship.
Tim: I knew Bruce by name and reputation, because long before we met and long before I went to the island, I had a copy of his "Birds of New Guinea". It was thus a thrill to get to know Bruce during the course of my project on Birds-of-Paradise and even to do fieldwork together in the Foja Mountains as he said, in 2007 and 2008.
Joan: Compiling the information and photos for this book must have been a daunting task, considering the cultural diversity and vast resources available on New Guinea. How did you tackle this job and decide what to include in your book? Did you conduct interviews and/or what resources were available to you?
Bruce: Tim has shot so many images from New Guinea in so many locations, that his library is vast. In addition, I have a large collection of field images based on 35 years visiting New Guinea; these two collections constituted the bulk of the images we used… We also have many friends who have worked in New Guinea, and they supplied the rest. But by far the bulk of the images are from Tim's trove.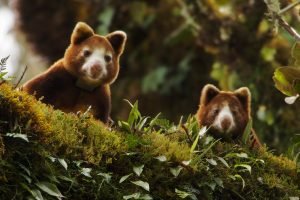 Joan: Did you publish "New Guinea: Nature and Culture of Earths Grandest Island" in conjunction with other agencies, organizations, or companies?
Bruce: The book was mainly a partnership between Tim and myself, but my wife Carol did the book design, and Porgera Joint Venture in Papua New Guinea was the main financial sponsor.
Joan: How do you describe New Guinea as a tourist destination? What type of traveler would typically want to visit the island?
Bruce: New Guinea is not for the faint-of heart; I recommend it be reserved for later in a list of international travel destinations. Those interested in a cushy experience should visit by cruise ship; those interested in seeing the wilder parts should join a bird tour.
Joan: What were a few of the challenges you faced as you were in New Guinea doing your fieldwork? (From a photographic and writer's standpoint)
Bruce: Over the years, the most memorable challenges include dealing with the relentless itching of chigger bites–some forests are chigger-rich and nearly unlivable because of it; chartering small aircraft and helicopters to fly into uncertain locations also generates all sorts of troubles and safety issues; working on the Indonesian side depends on all sorts of permits that are difficult to obtain; visiting forests in high-rainfall zones is a spirit-dampening experience….
Tim: From a photographic perspective, rain forests are very challenging places to shoot wildlife because animals are hard to find, hard to see, and there never seems to be enough light. So lots of time and effort is needed to find the right locations and wait in blinds to get the shots. Teaming up with scientists from various fields on expeditions who are searching for frogs, insects, plants etc., also was very productive in terms of getting help locating subjects to photograph.
Joan: Tell my readers about the crew you brought with you. Who accompanied you on your trips?
Bruce: We could not do our work in the wilds without a team of local village naturalists, who were expert at maintaining a comfortable field camp, keeping the fires burning, and helping us find the birds we were searching for–and their display sites. Stalwart and hard-working and dependable.
Tim: As Bruce says, our local naturalist guides were the key to success. Cornell ornithologist Edwin Scholes was also a collaborator for me on most of my 25+ expeditions, and his unparalleled skills at locating display sites of Birds-of-Paradise was a huge asset.
Joan: Overall, what were the reactions of the residents you encountered during your fieldwork?
Bruce: Most villages welcomed us with wonderful hospitality; occasionally, places that had had based experiences with mineral exploration parties were suspicious of us, but eventually came to see us as only eccentric and harmless.
Tim: True.
Joan: What are two must-see off-the-beaten-track regions on the island you'd recommend to first-time visitors?
Bruce: #1 the Raja Ampat Islands–best reef diving in the world and also wonderful island experiences; #2 Tari Valley–wonderful diversity of birds of paradise and the luxury of Ambua Lodge.
Tim: I second these recommendations.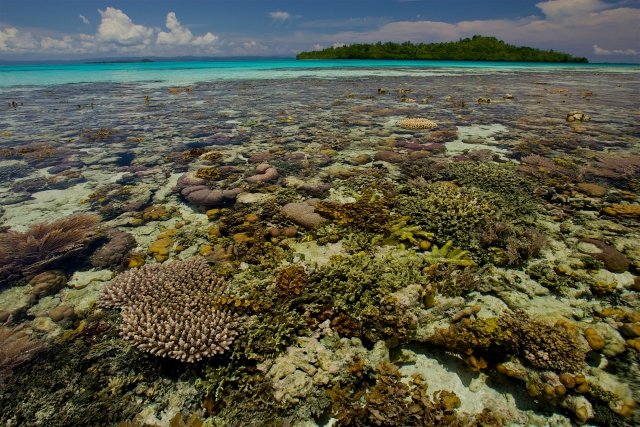 Joan: In terms of environmental disturbances and climate change, how would you describe New Guinea?
Bruce: New Guinea has faced threats from logging and oil palm plantation development, but still there are many undeveloped sectors on the island; climate change is impacting New Guinea just as it is impacting every place on earth, but the main issues relate to changing rainfall regimes that impact local agriculture; in general, New Guinea has suffered less than many tropical regions…
Tim: Yes, New Guinea is still more than 80 percent covered in forest and is the largest block of rainforest in the entire Asia-Pacific region, and third only in the world behind the Amazon and Congo forests. So it is vitally important as a storehouse of carbon and to be maintained as a forest so as not to exacerbate climate change.
Joan: What were two of the pivotal experiences you encountered during your field trips, i.e. life-changing that caused you to look at life from a different perspective?
Bruce: Visiting the Foja Mountains and being part of a team that came upon dozens and dozens of novel species of plants and animals was life-altering. It showed us that there are still places on earth untouched by humankind. It gave us a special reference for these sorts of "lost worlds"–a sense of the possibility of future discoveries to await the next generation of naturalists.
Tim: I agree. Visiting extremely remote areas of New Guinea shows us that the age of exploration is not over, and is an awe-inspiring experience. There is so much yet to discover about our planet's biodiversity.
Joan: What travel tips do you have to share with my readers in light of your extensive knowledge or New Guinea's Natural History and Culture?
Bruce: Here are a few: (1) pack light but be sure to have the essentials: sunscreen, insect repellent, a hat, a camera, binoculars; (2) have the proper malarial meds; (3) Do your homework in advance and be well informed about the places you are to visit–that guarantees a better experience; (4) footwear in critical: good socks and 2 pair of sturdy boots or walking shoes; (5) for rainforest consider taking a pair of Wellington boots–the tall pull-on rubber boots; when worn with two pair of socks (in nylon liner socks and heavier outer pair), these can be the perfect antidote to foot problems in the rainforest.
Tim: All good ones. For the photographers, I'll add: take lots of batteries and memory cards, and purchase a desiccant like silica gel in large quantities. At night, place your cameras and lenses in an an airtight case or bag, and dry them out with the silica gel. This will prevent the mold that loves the humid environment from growing on your lenses and ruining them.
Joan: What are you working on now and do you have plans to work together again?
Bruce:: I am working on a handbook to the birds of North America; I would love to create another beautiful natural history book with Tim!.
Tim: Yes, I'd love to collaborate with Bruce on another natural history book. I continue to plan expeditions to New Guinea for photography, filming, and research on Birds-of-Paradise. There is still so much to learn about them and amazing stories to tell that I hope will help inspire the whole world to learn about and care about the New Guinea region as one of the epicenters of Earth's biodiversity that remains under-appreciated. Our current book is I hope a good start toward this goal, but stay tuned for more articles, films, and books in the years to come!
Buy a copy of New Guinea: Nature and Culture of Earth's Grandest Island directly through Princeton University Press's website.
Love photography and world travel? Check out this article and photographs by Debashish Dutta.
Finding the perfect web host can be challenging but SiteGround goes above and beyond with its outstanding customer service, site speed, and overall performance. I switched to SiteGround less than a year ago and I couldn't be happier. Take a look at the web hosting packages and I guarantee you'll find one you'll love.
Disclaimer: One or more of the posts are this page is an affiliate link. I will make a small commission at no additional cost to you if you buy a product.