Get the MUC-OFF
Muc-Off 8 in 1 Bicycle Cleaning Kit
When Keeping Your Ride Fresh and Clean Is An Obsession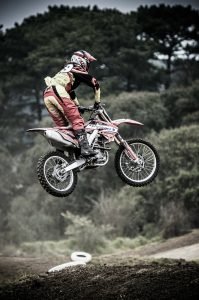 Muc-Off is The Ultimate Bicycle Cleaning Kit. Road and mountain bikes take a beating whether your course is a backcountry road or a mountain trail.
Dirt and grime are not your bike's friend. When the company reached out to me to review Muc-Off, I jumped at the chance to try the products on my mountain bike. With the tools that come in the heavy-duty box, getting your bike road-worthy takes very little time. In fact, my son has used the products contained in this kit to keep his own mountain bike in tip-top shape. Muc-Off is the ultimate bicycle cleaning kit gift for the bike enthusiast in your life. After all, regular maintenance equals fewer trips to the bike shop.
Muc-OFF is the answer to your dilemma – what to buy the bike enthusiast for special occasions. Who wouldn't want to have a portable, attractive, and functional all-in-one kit? You can also purchase refills and restock your toolkit as needed.
Highlights:
Nano Tech Bike Cleaner for quick and easy cleaning.
Four Muc-Off brushes and a microcell sponge for deep cleaning all the nooks and crannies
Bike Spray for post-wash protection against rust and corrosion.
Storage tub doubles as wash basin
The MSRP is $69.99.
Learn more about Muc-OFF here.
Disclaimer: Some of the links on this page are affiliate links. I will receive a small commission if you buy the item but at no additional cost to you.