Tasha Van Zandt Dedicated Storyteller
Filmmaking an Expedition of Its Own
What motivated Tasha Van Zandt, director, cinematographer, photojournalist, and Emmy-nominated producer to direct the adventure thriller, "AFTER ANTARCTICA?"
"Growing up in Minnesota, Will Steger was a hometown hero, and I remember reading of his expeditions in National Geographic magazine and seeing photos of expeditions across both poles," Tasha said (via an email interview).
Will's work had a tremendous impact on her path and inspired Tasha to use her lens as a tool to bring awareness to our need to protect our natural world.
AFTER ANTARCTICA is a feature-length cinematic memoir and a wilderness thriller that documents Will's 1989 trek across Antarctica and his solo Arctic expedition 30 years later at age 75. The documentary is interlaced with Will's memories of the triumphs and obstacles he and his team faced as he recounts his journey across the frozen continent.
Over the years, she began working with National Geographic leading educational expeditions around the world and when Tasha eventually met Will after a talk he gave, they immediately connected. What was their common thread? A shared fascination with our polar regions.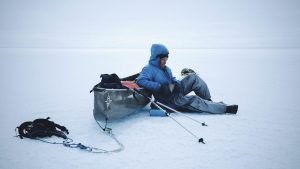 AFTER ANTARCTICA is a film for all who crave adventure and anyone who shares a concern for the environment and the preservation of our natural resources. You will, at times, find yourself perched at the edge of your seat as you witness the danger Will and his team of six explorers and scientists encountered as they journeyed across Antarctica. But the film is also a sobering glimpse at Antarctica's rapidly changing climate and their mission as the first humans to cross Antarctica by dog-sled was to draw attention to climate issues and to convince world leaders to renew the Antarctic Treaty. The treaty protects the frozen continent from industrial profiteers for the next 50 years.

I am pleased to present excerpts from our interview and I encourage you to keep this documentary on your radar. Tasha is no stranger to world travel and her career has taken her around the globe and across all seven contents as she personifies the true meaning of documentarian and itinerant explorer.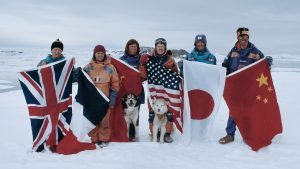 Interview
What do you believe was your greatest challenge while working on AFTER ANTARCTICA?
The greatest challenge was that as a small film crew of only two people throughout the production portion of the filming process we had to each take on many roles to be able to capture Will's journeys. When filming in very remote locations there is so much pre-production work that must be done in order to ensure you are prepared, much like with any expedition. There were also the logistical challenges of reaching such remote locations, as the only way to reach parts of the Arctic is via bush plane, and one of the only methods of reaching Antarctica is by ship over the Drake Passage from South America so there was a great deal of planning and research that went into the filming of the film.
"I felt my path had been bringing me to be able to share Will's story. Along with my fellow producer Sebastian Zeck, we then began working on the project that would eventually become 'AFTER ANTARCTICA."

Tasha Van Zandt
To what extent were you involved in the on-location filming?
The majority of the film was documented as just a two-person team with myself as the director, producer, and cinematographer, and Sebastian Zeck as producer and director of photography. Together alongside Will Steger, we traveled to Will Steger's off-the-grid homestead numerous times to film, as well as traveling to both the Arctic and to Antarctica. To be such a close-knit team really made for a special experience together with Will.
As a film director, what is your primary focus?
I'm dedicated and passionate about telling stories of the power of collective action and perseverance throughout my work. I strongly believe that the more personal the story, the more personally people can connect to the message at hand, and I'm driven to telling stories that can inspire people to push beyond boundaries and come together to effect change.
What do you believe are three common traits shared by all film directors and cinematographers?
For myself, I think that perseverance, determination, and curiosity for the world around us are all incredibly important traits to be able to endure through the journey of filmmaking and tell impactful stories. In so many ways, the journey of filmmaking is an expedition of its own, and it's so important to keep your eyes on the North Star of the importance of the story you are telling to help guide you along the way.
What criteria do you use when you are determining if a film project is a good fit?

Filmmaking in so many ways can be such an expedition of its own, so for me, it's so important to tell stories that I believe can inspire action and change around the audience and drive me to explore the realm of storytelling in a new way. The most important first step for me is to feel personally inspired and moved by the project and if it feels like a story that can inspire me to evolve my own path as an individual in some way, and I felt that fully in meeting Will and wanting to be able to share his story.
Please define cross-media projects and give some examples of your work in that genre.
As a multidisciplinary artist, I work in many mediums, including still photography and cinematography, but across all of my work, I'm a storyteller at heart and use a variety of tools to bring these stories to life.
From a travel perspective, what are three of your favorite destinations and why do they rank high on your list?
My favorite place I have traveled to is traveling back to Antarctica with Will Steger as that had been a lifelong dream of mine to one day go to the continent that is one of the most pristine, beautiful, and otherworldly places I have ever seen. But as Will Steger says "a melted drop in Antarctica ripples throughout the rest of the world", and to see such a wondrous place that holds such importance for our world had a strong impact on me. Also, I would say our travels with Will to the Arctic were so beautiful to be able to see the life and wonder that the landscape holds. Both parts of the world hold so much importance for the changes we are beginning to see on our planet and it's powerful to see firsthand these places that are so quickly changing. Iceland is another place that holds a special place in my heart as it's a place where the power of our natural world is on full display – but there are still so many places I still would love to be able to explore!
In addition to your role as director, I've read you also lead expeditions for National Geographic. What are a few of the expeditions and do they typically help you scout new projects?
Over the years I have worked with National Geographic leading student expeditions around the world as a filmmaking and photography instructor, in places such as Tanzania, Australia, Japan, and Iceland which has been such an incredible experience to be able to help share with others about the power of storytelling.
What's next on your film agenda? What are you working on now?

We're currently in the process of preparing to bring our impact campaign to life for AFTER ANTARCTICA and are excited to begin development on several new projects!
Looking for more stories about documentaries directed by women? Read the Peace Corps Documentary story.