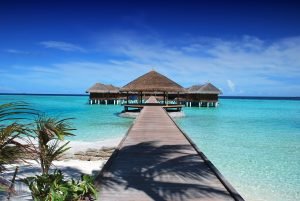 Get Your Slice of Beach Paradise 
The World's 50 Best Beaches List 
What's the best beach you've visited? I'd love to know your opinion. Email me with your choice and I'll publish the name of your favorite beach here at joanmatsuitravelwriter.com. 
After a very long year of lockdowns and stay-at-home orders, you're probably ready for a getaway. If you're yearning for the ultimate relaxing beach vacation, set your sights on this list and know that FlightNetwork weighed in with more than 600 of the world's best travel journalists, editors, bloggers, and agencies to get you the answers. Surely, you'll find paradise and ditch your stress and worries. 
Most of us yearn for the relaxation that comes with a beach getaway. I was thrilled when I was asked to weigh in with my choices for "The World's 50 Best Beaches." Follow this link to the website where "The World's 50 Best Beaches" article is published and learn more about each of these heavenly destinations.
This is by far, the most definitive list of beaches ever assembled and a truly diverse collection of beach paradise around the globe, according to FlightNetwork, a Canadian-based company that provides global travelers with competitive airfares, hotels, vacation packages, and car rentals.
The company is sure this list will inspire you to book a getaway to one of these incredible beaches where you can sink your toes in the sand and get your beach fix. 
Whether you yearn for powder-white beaches, swaying palm trees, turquoise waters, volcanic coastlines, or snow-capped mountain peaks, FlightNetwork's list, along with vibrant photos, is probably all you'll need to visualize what could be your reprieve from snow and cold weather.
Is your curiosity piqued? What makes these beaches rank among the 50 Best Beaches? You'll get the answers and travel planning advice from this list. 
| | | | |
| --- | --- | --- | --- |
| Name of Beach | Rank | Region/City/Island | Country |
| Grace Bay | 1 | Providenciales | Turks & Caicos |
| Whitehaven Beach | 2 | Whitsunday Islands | Australia |
| Anse Lazio | 3 | Praslin | Seychelles |
| Pink Sands Beach | 4 | Harbour Island | Bahamas |
| Navagio Beach | 5 | Zakynthos | Greece |
| Baia Dos Porcos | 6 | Fernando de Noronha | Brazil |
| Playa Paraiso | 7 | Tulum | Mexico |
| Hyams Beach | 8 | Jervis Bay | Australia |
| Hidden Beach | 9 | Marietas Islands | Mexico |
| Trunk Bay | 10 | St. John | US Virgin Islands |
| Maya Bay | 11 | Koh Phi Phi Ley | Thailand |
| Pig Beach | 12 | Big Major Cay | Bahamas |
| Blue Lagoon | 13 | Yasawa Islands | Fiji |
| El Nido | 14 | Palawan | Phillipines |
| Muri Beach | 15 | Rarotonga | Cook Islands |
| Saltwhistle Bay | 16 | Mayreau | St. Vincent & Grenadines |
| Half Moon Bay | 17 | Antigua | Antigua |
| Lucky Bay | 18 | Western Australia | Australia |
| Flamenco Beach | 19 | Culebra | Puerto Rico |
| Reynisfjara Beach | 20 | Iceland | Iceland |
| Ile Aux Cerfs | 21 | Mauritius | Phillipines |
| Fulhadhoo Beach | 22 | Fulhadhoo Island | Maldives |
| Vaeroy | 23 | Lofoten | Norway |
| Cayo Coco | 24 | Cayo Coco | Cuba |
| Seven Mile Beach | 25 | Grand Cayman | Cayman Islands |
| Anse Source d'Argent | 26 | La Digue | Seychelles |
| Horseshoe Bay | 27 | Bermuda | Bermuda |
| Honokalani Beach | 28 | Hawaii | USA |
| Turquoise Bay | 29 | Western Australia | Australia |
| Elafonissi Beach | 30 | Crete | Greece |
| Champagne Beach | 31 | Espiritu Santo | Vanuata |
| Tunnels Beach | 32 | Kauai | USA |
| Kaputas Beach | 33 | Turkey | Turkey |
| Dhigurah Island | 34 | Dhigurah Island | Maldives |
| Ile aux Nattes | 35 | Dhigurah Island | Madagascar |
| Cala Goloroitze | 36 | Sardinia | Italy |
| Los Roques | 37 | Los Roques | Venezuela |
| Long Beach | 38 | Vancouver Island | Canada |
| Grand Anse Beach | 39 | Grenada | Grenada |
| Boulders Beach | 40 | Cape Peninsula | South Africa |
| Lanikai Beach | 41 | Hawaii | USA |
| Cala Mitjana | 42 | Menorca | Spain |
| Shoal Bay Beach | 43 | Anguilla | Anguilla |
| One Foot Island | 44 | Aitutaki | Cook Islands |
| Ao Nang Beach | 45 | Krabi | Thailand |
| Radhanagar Beach | 46 | Havelock Island | India |
| Eagle Beach | 47 | Aruba | Aruba |
| Agiba Beach | 48 | Egypt | Egypt |
| Diani Beach | 49 | Kenya | Kenya |
| Cannon Beach | 50 | Oregon | USA |