Tóg Mé Bhaile go Éirinn (Translation)
Paul Kostiak, a native of Scranton, Pennsylvania, is a retired Regulatory Compliance Analyst who now spends his time traveling and writing. As an approved United Nations international expert/lecturer, Paul has extensive experience visiting other countries and experiencing their cultures. He's co-owner of the Ireland-based "Take Me Home Ireland" tours, a company that provides individualized Ireland tours.
By: Paul Kostiak
The first time I traveled to Ireland I was only mildly excited.
After all, I had flown over a million miles during my professional career, much of it internationally. This was a pleasure trip. A chance to explore the Emerald Isle from which three of my four maternal great grandparents had emigrated.
I had been somewhat of an amateur genealogist for a number of years and this was possibly my first chance to make some interesting discoveries in situ. Little did I know this flight from Newark to Dublin was the first step toward what would become an obsession, with multiple return trips every year. As a genealogist, I would find the pot of gold at the end of the rainbow, and as a person, I would come to fall in love with a country and its people.
Oddly, this would not be my first glimpse of Ireland. I had seen it before from 35,000 feet in the air on a flight from Newark to Amsterdam. Our flight path took us directly over and as I glanced out of the window on a rare clear day, I saw green – nothing but green.
"That has to be Ireland,' I muttered to myself. A few years later I would be wheels-down on that green."
Some who know me casually had questioned my interest in Ireland. My Ukrainian surname belies all the Irish blood within me. Tis on me mam's side. Three of my mother's grandparents had been born there before emigrating to Northeastern Pennsylvania. Through my cursory genealogical research, I had been able to identify their names and in some cases, their parent's names as well as their approximate dates of birth.
Some of it was easy. My grandmother, Katie Allen Boone, passed away when my mother was only 10 months old and because of this, she was raised by her Irish grandmother, Mary Mullarkey Allen, and her mother's sister, Mary. Her other Irish grandmother Sarah Carden Boone lived next door. There is no doubt the Irish raised her. This gave me three Irish lines to explore – Mullarkey, Allen, and Carden.
Armed with this limited information, I had a glimmer of hope that I might be fortunate enough to find just a wee bit more about them, but that was a secondary purpose. My primary purpose was even more personal. As a gift to my mother, I was taking her along for the ride to the homeland of those incredibly strong Irish women who had formed her into the strong woman she is. At 85-years-old, she, who had never ventured farther from Avoca, Pennsylvania than the Jersey shore, would board her first airplane and soar across the pond. My sister, Ann, accompanied and her son, Lee, who had been there several times before and would act as our guide. We were taking Grandma on one helluva road trip.
We touched down in Dublin early in the morning after flying all night on the red-eye. After collecting our bags and navigating my newly minted world traveler mother through immigration and customs, we waited outside for the car hire shuttle. As she stood in the early morning sunrise, she looked up and saw the tri-color green, white and orange flag gently waving in the breeze.
I heard her repeating, more to herself than anyone, "I can't believe I'm here."
If you've ever been to Ireland you'll know what an adventure just maneuvering can be. Driving on the left side of the road from the right side of the car (and automatic transmissions are virtually unheard of), negotiating your way through the seemingly endless roundabouts, all while deciphering road signs written in both English and Irish Gaelic, can be somewhat intimidating. Best leave the driving to Nephew Lee who's had experience, as my own was limited to riding left-sided shotgun in Japan.
Our plan was to experience the entire island, which is about the size of Indiana, in seven days. We would travel from Dublin, down the east coast across the south, up the west coast to the north, and then back to Dublin for the flight home. A tad ambitious, especially while traveling with an octogenarian, but certainly doable.
We spent the first day exploring Dublin, Ireland's capital, and largest city. While there is a lot of Irish culture, it is a large city and filled with the typical tourist destinations, Trinity College and St. James Gate where Guinness is brewed. We spent the night at the four-star Croke Park Hotel, rose the next morning for a "full Irish" breakfast and we were on our way south to see the real Ireland. Our first stop on the list was a small village in County Wicklow called Avoca. I was raised in a similar small town in Avoca, Pennsylvania, and Mom, Ann, and Lee still live there. For a true Avocan, no trip to Ireland is complete without a visit to Avoca, County Wicklow, and the world-famous Avoca Mills where the iconic Irish wool is woven into the plaids and tweeds that we all know. Avoca Mills produces the bulk of these fabrics and is the oldest continually operating business in Ireland. Of course, a pop into Fitzgerald's Pub, the only pub in town, for Mom's first pint o' the Black Stuff (Guinness) was mandatory as well.
Next on the itinerary was County Cork, and Cork Town, the second-largest city in Ireland. Of the Irish who emigrated to Northeastern Pennsylvania, beginning during the Great Hunger (mistakenly called the Potato Famine by unknowing Americans), County Cork was home to the second-largest contingent. Although it's a rather large city, Cork Town is much more quaint than Dublin with its pristine parks, traditional pubs, and the beautiful River Lee.
We spent the night at the four-star River Lee Hotel and of course, my nephew just had to take a dip in his namesake frigid river before we left. We decided against the obligatory stop at the Blarney Stone in County Cork. The prospect of standing in a long line (queue) of bus riding tourists only to climb rickety wooden stairs, lie on our backs over the edge, and kiss the stone that millions of others have done before seemed rather unappealing. Rumor has it, the local lads relieve themselves on (the stone) after the tourists leave.
From Cork, we set out for Mizen Head, the southernmost point in Ireland, and often the last glimpse of Europe passengers aboard transatlantic ships from England would see on their way to America. A "head" in Ireland is what we would call a peninsula. If you were to look at a map of Ireland you'd see a group of these heads jutting out from the southern coast like fingers. The tip of Mizen Head is the southernmost point of all of them. It's also one of the windiest places I've ever been to.
The weather in Ireland is enigmatic. Although it lies farther north than Newfoundland, Canada, the island has a somewhat temperate climate.
"Be prepared to see palm trees, yes, palm trees."
Ireland has a similar reputation to England, namely rain every day. It may be cloudy most of the time but my experience over multiple trips has been that rain showers are frequent but short-lived and snow is a rare occurrence. It's not unusual to see umbrella vending machines along the streets. We were there in September so the weather was relatively mild. But nothing could have prepared us for what Mizen Head had to offer.
I have been in windy conditions before. I've spent a fair amount of time in Chicago. I lived in Center City Philadelphia in the winter and am thoroughly familiar with the streets of New York during a storm. I've walked snow-covered Gero Mountains in Japan in June and I've sailed the open waters of the Rio Plata between Argentina and Uruguay. I've lived through countless hurricanes. I've never experienced clear weather winds the likes of which we found at Mizen.
The car park at the very tip of Mizen Head is a few hundred yards from the actual tip. To get there entails a long walk on a ground-level wooden boardwalk over the rocky shore. The scenery is breathtaking. The ground can only be described as moonlike and in the distance, the roaring waves of the North Atlantic continually pound the shore. Have I mentioned that the wind was unbearable? The four of us made our way along the boardwalk struggling with each step, being slammed in the face with the North Atlantic wind all the way.
Being the good son that I am, I lagged back with Mom while Ann and Lee paced ahead. Finally, about halfway to the end, Mom had had enough. She turned to me and asked if she could go back to the car. I was never so relieved to grant her a wish as I was then. We retreated to the warmth of the car and waited for the other two to tell us how "awesome" it was.
And so it was time to start heading north toward Galway for our next overnight stay. Along the way, we passed through County Clare, home to the famous Cliffs of Moher. But first, we had to traverse the narrowest country roads that exist on Earth. Bushes along either side of the roads were literally brushing against the side view mirrors. Occasionally we would drive over a knoll only to be confronted by an oncoming farmer's tractor or a herd of sheep.
"They're not walking on our road. We're driving through their field."

An Unspoken Irish Rule


After roughly fifty miles of this, we finally reached a paved road and eventually the motorway.
Our intention was to visit the Cliffs of Moher but the fog was rolling in from the west coast by the time we got to County Clare and visibility was most assuredly minimal. The wind had abated somewhat but after our experience at Mizen Head, we decided to forgo that stop. As it turns out the Cliffs are an extremely popular tourist destination. Long queues of tourists once again. Much better and less "touristy" cliffs lie ahead, Lee assured us.
Like many counties of Ireland, the largest city is often named the same – County Galway and Galway Town. Along the west coast, the cities are actually a cross between a city and the countless small villages you'll pass through. We settled in for the night at the Imperial Hotel in the middle of Galway Town. It was somewhat older than other hotels where we had been staying but quite comfortable nonetheless. It was here that I finally had some time to myself to relax and also where I enjoyed one of the most Irish experiences of my short time there and since.
After the long day of travel, the others were beginning to succumb to jet lag. Because I spent the majority of my career traveling I am somewhat immune to it. And so, when in Ireland do as the Irish do. I hit the hotel pub.
It was late afternoon, around half five as they say, and so I was the only customer there. The barmaid was a lovely lass appropriately named Colleen who was thankfully blessed with the Irish gift of gab. We discussed my family ties to Ireland, which tourist sites to avoid, Gaelic sports (that's a story for another time), all while she continued to politely ask if I fancied another pint o' the Black. Sure, it was quite the craic. (The craic – pronounced crack – is the Irish way of saying fun or a good time).
Eventually, her shift relief walked behind the bar. He was a young man. Very young. He looked to be 12-years-old. I knew the legal drinking age in Ireland is 18 but this barman seemed to be more of a barboy. His name is Danny King. I only mention this because one of my favorite bartenders here at home is a fine Irish-American lad named Danny King. As it turned out this was young Danny's first night behind the bar and it fell to the lovely Colleen to train him.
Pouring a proper Guinness is both a science and an art and must be done correctly to avoid the wrath of the customers. First, it must absolutely be served in a genuine Guinness pint glass. They take this seriously. These glasses have a CE mark on them which indicates that they have been certified for use within the European Union and that they hold exactly 16 ounces. In America, a "pint" glass is actually 14 ounces. Contrary to popular belief the Irish do NOT drink their beer warm. That's the British. Cold temperature is monitored as closely as the volume of the glasses. Also. there is a distinct difference in taste between the Guinness we get in America and what you'll find in Ireland even though it's all brewed in Dublin. It doesn't "travel well" I'm told. The proper pouring technique is to tip the glass to a 45-degree angle and pour until the glass is precisely three-quarters filled. Then it's set down to rest for a few minutes. Guinness is not carbonated as most beers are, nitrogen is used to create the head and create its distinct creamy texture – think chocolate milk. Because of this, foam accumulates but eventually settles down. Once it has settled the glass is filled and served. Not before. To do so is a mortal sin I would imagine punishable by the ire of the whole of Ireland.
Back to young Danny. Yer man (boy?) was struggling to acquire the skill of a proper Irish barman. With each pour, the overseeing eye of Colleen gently critiqued him and promptly passed his mistakes onto me, the only soul at the bar – on the house. Quite the craic indeed. Eventually, young Danny triumphed and was able to pour the perfect Guinness and alas my stint as Guinness Quality Control inspector came to an end.
The next morning we left on the final leg of our tour. We were headed to County Mayo and the lovely town of Ballina. I mentioned earlier that Cork was the home of the second-largest contingent of Irish immigrants in Northeastern Pennsylvania. The Province of Connacht is by far the largest contributor, 85 percent by some estimates.
The Republic of Ireland is composed of four provinces, Connacht, Munster, Leinster, and Ulster. The three southern provinces include 25 of the 26 counties of the Republic while Ulster consists of the 26th Republican county (County Donegal) as well as the six counties of Northern Ireland. Provinces were originally small kingdoms and today they don't really have any significance other than a geographic description, much like we might say of New England and its six states. The Province of Connacht includes the counties Galway, Mayo, Sligo, Leitrim, and Roscommon and is located in the northwest corner of the Republic. Our visit took us to Mayo, where Lee had made friends during his previous trips.
The largest city in County Mayo is Ballina, whose population is slightly more than 10,000. Interestingly, Ballina is Sister Cities with Scranton, Pennsylvania, a testament to the large number of Irish-Americans in Northeastern Pennsylvania who can trace their roots to County Mayo. We would spend three days there to give us time to meet and socialize with Lee's friends and explore the county, in my opinion, the most beautiful in Ireland.
For our stay, we selected the Great National Hotel, another very comfortable and clean accommodation.
Ballina is the sort of town that instantly makes you feel comfortable, much more than any of the other towns we visited. Even before I had met any friends there was something about it that made me feel at home. Lee told me that he felt the same the first time he visited. We would later find out the reason why.
The beautiful River Moy winds its way through the center of Ballina northward to Killala Bay on the Atlantic. It is known as the Salmon Capital of Ireland, and on any given day fly fishermen and women can be seen plying their skills in hopes of landing the evening's dinner. Visitors can try their hand at it or enjoy it in one of the many fine restaurants in town. Just one of many reasons to visit.
Like any respectable Irish town, Ballina is not without its share of pubs. Each one is as welcoming as the others. On any given night the craic is bursting the walls in each one, complete with live traditional Irish music and plenty of adult beverages flowing from the taps. It's a given that one of the locals will strike up a conversation with you, especially when they hear our accent. You'll be engaged in hours of long conversation.
"There are no strangers in Ireland, only friends you haven't met."

An Irish Adage


At the risk of slighting all of the other pubs, I'll have to pick one as my personal favorite.
"An Aulde Shebeen is one of a kind. The name means The Old Shebeen."
A shebeen (she-BEAN) is what we might call a speakeasy. Under British rule, there was a set of laws called the Penal Laws which restricted the rights of Catholics. Among other things, Catholics were forbidden to gather together or to drink alcohol and have the craic. As a result, they came up with their own version of still made grain moonshine called poitín (po-CHEEN). They would secretly come together in an inconspicuous place, usually, someone's home, to drink. Such places were called shebeens. In today's pubs the restrictions obviously no longer apply, but The Shebeen carries on the spirit of the day.
Ballina is also home to the Cathedral of St. Muredach (MOOR-a-dock), the seat of the Roman Catholic Diocese of Killala. I mention this only because of its historical significance. Muredach was a follower of St. Patrick himself in the early sixth century and Patrick instructed him to establish a church in nearby Killala, with Muredach as its first bishop. Remains of the old cathedral can still be seen adjacent to the present cathedral. A well still exists in Killala where it is said that St. Patrick himself baptized his converts of the area.
Continuing on the religious theme, a short 30-minute car ride from Ballina is the Shrine of Our Lady of Knock. Catholic tradition holds that in 1879 several peasant farmers and their families witnessed the appearance of the Virgin Mary, St. Joseph, and St. John the Evangelist on the site of the shrine. Today the Shrine of our Lady of Knock takes its place among the shortlist of apparition sites which includes Lourdes, Fatima, and Guadalupe. The site has been visited by five popes as well as St. Mother Teresa and is visited by hundreds of thousands of faithful pilgrims each year. Of course, we had to get Mom there to attend Mass, purchase rosaries, and have them blessed with holy water from the shrine. This holy place is memorialized in the beautiful Irish song Lady of Knock.
Within a short five minute drive, you'll find the beautiful Belleek Forest as well as Belleek Castle. The castle is an early 19th-century replacement for a 13th-century one built on the banks of the River Moy. Although we haven't stayed overnight there (yet!!) the castle functions as an operating hotel. Its Library Restaurant was where we enjoyed a fine dining meal to mark our last evening in Mayo before heading home.
"Mom's review? "I feel like a queen!"
Another nearby attraction we had a difficult time tearing Mom away from is the Foxford Woolen Mills – a shopper's dream. They offer the beautiful Irish woolen goods such as flat caps, scarves, and the iconic woolen Aran sweaters. Fortunately for Mom, they offer to ship her purchases back home so she didn't have to haul her entire Christmas gift cache on the plane with her.
Mayo is also the location of many fascinating geologic and archeologic sites which were must-dos on our list. In less than an hour, you can be at Downpatrick Head. This amazing place is a geological wonder with its rolling green hills, amazing cliffs. Yes, much more awe-inspiring than the Cliffs of Moher as Lee had promised. The indescribable Dún Briste sea stack ( dun=fort, briste=broken, think our Dun-more), is a 150-foot high piece of the cliffs that broke away from the mainland 350 million years ago. St. Patrick also established a church here and some of the remains can still be seen.
Next on our list was another magical place. Ten minutes from Downpatrick Head we found Céide Fields (KY-duh meaning "flat-topped hill"). This Neolithic site is the oldest known agricultural field system in the world, dating back to 3500 BC, older than the pyramids of Egypt. The museum and the walking tour were followed up by afternoon tea in the café which certainly put a smile on Mom's face.
As you might have guessed Mayo is steeped in religious history. Centuries-old ruins of religious abbeys litter the landscape and it is one of these, in particular, that lead me to make a significant genealogical discovery and the spark which united my urge to return again and again. While exploring the ruins of nearby Moyne Abbey, I noticed an old stone plaque on the wall. The abbey was constructed in 1460, almost 40 years before Columbus sailed from Spain to the New World. On this plaque, I was barely able to make out the name "Carden." If you recall my great grandmother's maiden name was Sarah Carden. I immediately wondered if there were a connection and became determined to find out.
I really didn't have an idea where my recent ancestors came from in Ireland. I knew that most likely they came from Connacht as this is where the majority of the NEPA Irish had come from. But I had no information to support it. That would soon change immensely.
"I wondered if that was the reason I felt so at home in that particular corner of the beautiful island of Erin. Is there something in my DNA that draws me back?"
As our time in Mayo drew to a close during the drive to Dublin for our flight home, I was already planning my return. I've since learned that's not an uncommon phenomenon. Our mission this time had been completed, we had given Mom the opportunity to walk on the auld sod where her grandmothers and grandfathers did. She prayed on her Knock rosaries on the flight home and I couldn't help but wonder if she wasn't saying a prayer for them.
That initial visit with Mom was just the beginning of what became a passionate obsession.
"I became more determined than ever to put faces and places to our family story. I began what still would today remain several true friendships."
One in particular, is my dear friend Brendan Farrell. Lee met Brendan on his first trip a few years before and he introduced me to him. Brendan, born in Killala and now living with his lovely family in Ballina, became my tour guide, historian, folklorist, a supporter of my geneaology (he's a wealth of local knowledge) and friend. A singer/songwriter of original Irish music, he also introduced me to Gaelic sports! We eventually became business partners in a custom-designed small tour company, Take Me Home Ireland tours, so named because we both share the same idea that no matter where we are born, we are born with Ireland in our hearts.
When Brendan wrote his original stage show of storytelling and his rich Irish music "Take Me Home Colleen," (sensing a theme here?) he trusted me to produce his American premiere at The Theater at North in Scranton. The story of a 19th-century Irish man who left his beloved Colleen back in Ireland while he traveled to NEPA to seek his future. One of his original songs in the show is "Scranton Railroad Lines," a nod to his friends back here. Most importantly he is the first one to give us a hug and say, "Welcome home," whenever we return. Such is the value of friendships. There are no strangers in Ireland, only friends you haven't met.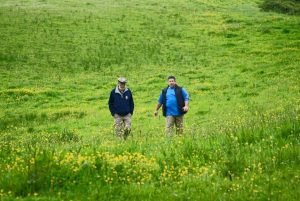 That first trip turned into many, on average twice a year. On subsequent trips, we have been able to establish that indeed we hail from Mayo. It must be in the DNA after all. With the help of the North Mayo Family Heritage Centre's resident professional genealogist, we have greatly expanded our Irish family tree to more generations. On one such trip, I was able to find the remains of the simple stone cottage where Sarah Carden was born and the well in the middle of the field where her father, my great-great-grandfather worked as a shepherd, in which Sarah was likely baptized. We also found the remains of the church where my great-great-grandparents were married, and the grave in County Galway where they rest today. This past September I was able to take Ann, Lee, Ann's daughter Julie and another great-great-grandson, my cousin John Boone, to these sacred sites.
Unfortunately, Mom was unable to make that trip due to some temporary health issues. I was heartbroken that she wasn't able to make it. I wanted her to be able to walk in the very footsteps they did and to say a prayer over the grave of those who had the courage to put their eldest daughter on a ship to the new world in 1872. A daughter who would come to raise my Mom.
As a postscript, Mom's health steadily improved we made a plan to take her in her 89th year to those sacred sites in May 2020. But Nature has a way of changing things. With the help of God, we'll all get through this pandemic that affects the whole world, including our beloved County Mayo. Until then we can only hope that one day soon we'll again be on a plane across the pond saying, Tóg Mé Bhaile go Éirinn – Take Me Home to Ireland.
You can reach out to Paul on Facebook at Take Me Home – Irish VIP Tours or via email.
Do you love stories about travel and culture? Did you enjoy Take Me Home to Ireland? Start a discussion or join in with one on my Facebook page.
Read a companion story about Neil Patel's idea of the perfect getaway.
The Everything, Everywhere, Travel Guest Series is a gift to the world community as we struggle to find "normal" and "familiar" in our lives. Our travel stories allow my guest travel writers and readers to stay focused on the future and remember the past moments that made us smile. As we shelter-in-place and wait for the green light to resume our lives, these stories will prey on your optimism. Contact me if you'd like to share your story.