Hershey Story Museum Tells a Sugary Tale
Melding Chocolate Culture with History
Chocolate Dreams Are Sweet for visitors to Hershey, PA.  You'll leave Chocolate Town with the aroma of chocolate embedded in your mind and senses.
Most of all, who doesn't love a story with a happy ending?
We've all heard of extraordinarily successful entrepreneurs and we can't help but wonder how they rose above the day-to-day challenges associated with running a business. Milton S. Hershey is an individual we can admire for his dream and vision but he wasn't an instant success.
Where can you learn more about Milton S. Hershey and his legacy?
At the Hershey Story Museum, The Hershey Company's most recent building endeavor.
The Hershey museum opened in January 2009 in the heart of downtown Hershey, a magical town where the streetlights are modeled after Hershey Kisses and the aroma within each building is a reminder of why chocolate is a good as gold. More than 160,000 people visit the museum every year.
The story goes that around the turn of the century, chocolate was a booming business and Milton Hershey was so inspired, he sold his caramel business and broke ground for a new chocolate factory in nearby Derry Township, his hometown. For as long as I can remember, the Hershey bar has been a symbol of chocolatey sweetness and the iconic chocolate-colored wrapper that has evolved over the years is also a reminder of days gone by. But it's more than the chocolate that's represented in the museum. It's Milton Hershey's rag to riches' story. Walk into a grocery store or anywhere that food is sold and you'll likely find a product manufactured by the Hershey Company. More than a century after Hershey built his factory, Hershey products are manufactured and savored around the world.
My recent media trip to Hershey was a fascinating mix of chocolate culture. The Hershey Story Museum, 63 West Chocolate Ave., Hershey, Pennsylvania, helps to tie together the entire Hershey experience with a mix of exhibits and archives that will ignite your curiosity about the art of chocolate making and demystify the man who started the company from scratch. Where are the ingredients sourced? Where does Hershey find such large quantities of cocoa beans to mass produce chocolate? Where do the sugar and dairy that are key ingredients in many of products originate? The exhibits answer those questions through visuals and hands-on experimentation that every child and adult should experience at least once.
The "Failures to Fortunes" exhibit is one that particularly illustrates how determination can result in ultimate success. Milton S. Hershey found success while at the Lancaster Caramel Company and grew his company from there into a booming chocolate business. Each piece in the exhibits is presented so they appeal to adults and children.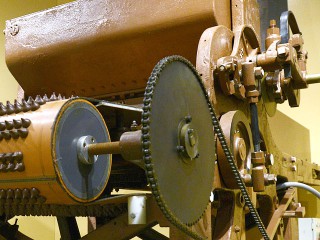 Visitors can watch candy-making equipment in action or a virtual Hershey Kisses' wrapping line. The goal is to honor Milton Hershey and preserve the immeasurable impact he had on the town of Hershey and the world. ArchiText LSC design and world-renown exhibit designers Gallagher and associates partnered with the MS Hershey Foundation to create The Hershey Story Museum.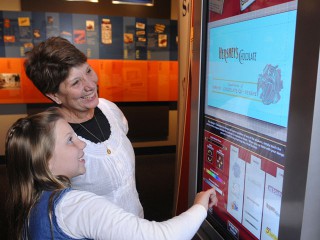 The museum took approximately three years to build after a year-and-a-half in the planning stage, with an impressive attention to details that's obvious from the moment you step into the museum.  Allow two to three hours for a walk-through or longer if you and your family want to investigate each exhibit and take part in the hands-on Chocolate Lab where you'll learn how chocolate is made in a fun hands-on workshop. Do YOU want to make your own chocolate treat? You'll leave with a better appreciation for the chocolate-making process after you've made your own sweet treat. 
Don't leave the museum without stopping at The Pantry Cafe for coffee, sweets and confections, a smoothie, breakfast and lunch sandwiches and salads and other treats to round out your museum experience.
Come to the museum as a family or plan a school field or scout trip to the museum. Winter can be long and boring. Check out the calendar of events here and beat the January and February blues at The Hershey Story Museum.
Hershey Chocolate World
The Hershey Story Museum is only a few Hershey Kiss miles away (nine minutes) from Hershey's Chocolate World, another extraordinarily popular attraction. This one is free. You can board the chocolate making tour and find and smell the outrageous chocolate aroma throughout your tour.  Hershey's famous characters tell the story of chocolate making that begins with cocoa beans and ends with the wrapping process.
Find your seat on the indoor tour tram. Tours run continuously throughout the day every 30 minutes (during business hours) and it's WHEELCHAIR ACCESSIBLE. After you've learned everything you should know about chocolate making, head to the 3D Chocolate Mystery Show and by that time, oh, you'll be ready to create your own candy bar. The fun continues with the Hershey Trolley Tour, a seasonal way to view the incredible array of attractions Hershey offers its visitors. Book your tickets in advance online for the Holly Jolly Trolley that'll delight your children. Or stop at the Central Ticketing office to purchase tickets. Caroling, stories, and a visit from a special guest will keep you entertained and set you in a holiday mode.
I visited Hershey in late summer and early fall and arrived to find flowers in bloom and meticulously manicured grounds and a flurry of activity.  Each season brings something new in this old-fashioned town. Put down your electronic devices so you can appreciate the farmlands and rolling hills that lead to Hershey. Play a game about what you see, or count the number of cows along the way to prepare your family for the attractions that will greet them at Hershey.
For more information about Hershey and Harrisburg attractions, and other Chocolate Dreams are Sweet examples of Milton S. Hershey's legacy. Visit www.VisitHersheyHarrisburg.org for a complete list of Hershey attractions.
My trip was hosted and comped by Visit Hershey & Harrisburg but my opinions are my own and are based on my personal experiences. 
[ninja_form id=1]